The winners and losers from the 2020 Golden Globes Awards
Publish Date

Tuesday, 7 January 2020, 4:59PM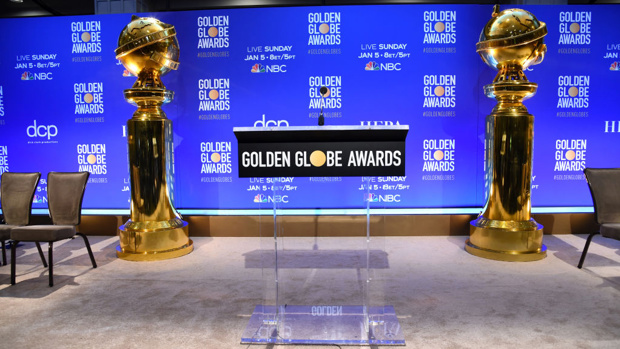 Once Upon a Time in Hollywood was the big winner at this year's Golden Globe Awards, taking home three prizes.
Quentin Tarantino scooped his first-ever Best Motion Picture honour in the Comedy or Musical category, while he also scored a win himself for Best Screenplay, and there was a Best Supporting Actor success for Brad Pitt.
Brad made sure he took the time to thank his co-star Leonardo DiCaprio – who lost out on the Best Actor in a Motion Picture - Musical or Comedy award to Rocketman star Taron Egerton – in his acceptance speech.
Taking to the stage at the Beverly Hilton hotel, he said: "I also have to thank my partner in crime, LDC.
"Before The Revenant I used to watch year after year his co-stars win awards and get up and thank him profusely and I know why. He's an all-star, he's a gent. I wouldn't be here without you, man. I thank you."
And referring to his pal's on-screen death in 1997's Titanic, he quipped: "Still, I would have shared the raft."
Meanwhile, Taron Egerton admitted Rocketman had "changed [his] life" as he accepted the Golden Globe Award for Best Performance by an Actor in a Musical or Comedy Motion Picture.
The 30-year-old actor – who was nominated against Daniel Craig (Knives Out), Roman Griffin Davis (Jojo Rabbit), Leonardo DiCaprio (Once Upon a Time in Hollywood) and Eddie Murphy (Dolemite Is My Name) was visibly shocked to win for his portrayal of Sir Elton John and paid tribute to the "legitimate icons" and youngest nominee Roman 12, as he picked up the honour.
Speaking on stage at the Beverly Hilton Hotel, he said: "I really wish I had written something. I'm so honoured to be nominated alongside legitimate icons and also Roman, who is the sweetest kid and it was an incredible performance in Jojo and I'm incredibly honoured to be nominated with you too!
"This role has changed my life. It's been the best of my life. I am so proud of the film. Everyone standing up for Elton earlier, it's just such a joyous thing. We've loved every second."
Taron dedicated the award to his mother and praised his co-stars Jamie Bell and Richard Madden, as well as thanking Elton, his husband David Furnish, and the Candle in the Wind hitmaker's writing partner Bernie Taupin.
He said: "Thank you, David, for allowing me to believe I was the man who was going to play your husband.
"Bernie Taupin for being a lovely man as you a legend... Finally to Elton John, thank you for the music and thank you for living a life less ordinary and thank you for being my friend." 
1917 also enjoyed a successful night, taking the Best Motion Picture – Drama honour, as well as Best Director for Sam Mendes.
Accepting the Best Motion Picture honour, Sam said: "This is a huge, huge thing for this movie. It opens in a week wide.
"It's difficult to make movies without big movies stars in the lead and get people to come and see it in a cinema. I really hope this means that people will turn up and see it on a big screen as it was intended."
Joker star Joaquin Phoenix and Judy's Renee Zellweger won Best Actor and Actress in a Motion Picture – Drama respectively, while the Best Actress in a Motion Picture – Musical or Comedy accolade went to Awkwafina for The Farwell. Best Supporting Actress in a Motion Picture was awarded to Marriage Story's Laura Dern.
In the television category, Fleabag, Succession and Chernobyl won two awards.
Fleabag was named Best Television Series – Comedy or Musical, while its star and creator Phoebe Waller-Bridge won Best Performance by an Actress in a Television Series - Comedy or Musical but used her speech to praise co-star Andrew Scott.
She said: "Oh my God. Thank you so much to the Hollywood Foreign Press Association for this, it's really heavy and cool.
"This really comes down to Andrew Scott really because that man, there was a lot of talk about the chemistry between us in the show but he could have chemistry with a pebble and Id loved being Andrew's pebble in this, thanks for bringing so much fire to this season."
Success was named Best Television Series – Drama and its star Brian Cox apologised to the other nominees when he was announced as the winner of the Best Performance by an Actor in a Television Series – Drama category.
He said "I'm sorry, this kind of event does your head in. It really does and first of all, I want to apologise to my fellow nominees for winning. I'm sorry, not so I can say I'm sorry but I never expected this.
"Next year I've been in this business for 60 years and just never thought this would happen to me so I'm a wee bit shocked."
Chernobyl won Best Television Limited Series or Motion Picture Made for Television and Stellan Skarsgard won Best Performance by an Actor in a Supporting Role in a Series, Limited Series or Motion Picture Made for Television.
Ricky Gervais was the host of this year's ceremony and pledged to "go out with a bang" as he mocked the star-studded audience at the Golden Globe Awards.
The 58-year-old comic fronted the ceremony for the fifth time and insisted he had "never cared" about the event so wasn't too worried about offending people.

He said: "You'll be pleased to know this is the last time I'm hosting these awards, so I don't care anymore. I'm joking. I never did. I'm joking, I never did. NBC clearly don't care either - fifth time. I mean, Kevin Hart was fired from the Oscars for some offensive tweets - hello?

"Lucky for me, the Hollywood Foreign Press can barely speak English and they've no idea what Twitter is, so I got offered this gig by fax. Let's go out with a bang, let's have a laugh at your expense. Remember, they're just jokes. We're all gonna die soon and there's no sequel, so remember that."

The After Life star went on to poke fun at the college admissions scandal, which saw actress Felicity Huffman jailed.

He quipped: "I came here in a limo tonight and the license plate was made by Felicity Huffman. No, shush. It's her daughter I feel sorry for. OK? That must be the most embarrassing thing that's ever happened to her. And her dad was in Wild Hogs.

Ricky also made jokes about disgraced filmmaker Harvey Weinstein and late financier Jeffrey Epstein.

Referring to the expose which laid bare claims about the producer, he told the audience at the Beverly Hilton Hotel: "In this room are some of the most important TV and film executives in the world. People from every background. They all have one thing in common: They're all terrified of Ronan Farrow. He's coming for ya."

And when discussing his own Netflix series, After Life, he said: "That's a show about a man who wants to kill himself cause his wife dies of cancer and it's still more fun than this. Spoiler alert, season two is on the way so in the end he obviously didn't kill himself.

"Just like Jeffrey Epstein. Shut up. I know he's your friend but I don't care."

After taking jibes at Cats, Leonardo DiCaprio's love life and Martin Scorsese's height, Ricky took a swipe at "woke" celebrities for being hypocritical and warned them not to speak for too long on stage.

He said: "Apple roared into the TV game with The Morning Show, a superb drama about the importance of dignity and doing the right thing, made by a company that runs sweatshops in China.

"Well, you say you're woke but the companies you work for in China - unbelievable. Apple, Amazon, Disney. If ISIS started a streaming service you'd call your agent, wouldn't you?

"So if you do win an award tonight, don't use it as a platform to make a political speech. You're in no position to lecture the public about anything. You know nothing about the real world. Most of you spent less time in school than Greta Thunberg.

"So if you win, come up, accept your little award, thank your agent, and your God and f**k off, OK?"
2020 Golden Globe Awards selected list of winners:
Best Motion Picture - Drama
'1917' (Universal)
Best Motion Picture - Musical or Comedy
'Once Upon a Time in Hollywood' (Sony)
Best Actor in a Motion Picture - Drama
Joaquin Phoenix ('Joker')
Best Actress in a Motion Picture - Drama
Renée Zellweger ('Judy')
Best Actor in a Motion Picture - Musical or Comedy
Taron Egerton ('Rocketman')
Best Actress in a Motion Picture - Musical or Comedy
Awkwafina ('The Farewell')
Best Actor in a Supporting Role in Any Motion Picture
Brad Pitt ('Once Upon a Time in Hollywood')
Best Actress in a Supporting Role in Any Motion Picture
Laura Dern ('Marriage Story')
Best Director - Motion Picture
Sam Mendes ('1917')
Best Screenplay - Motion Picture
Quentin Tarantino ('Once Upon a Time in Hollywood')
Best Television Series - Drama
'Succession' (HBO)
Best Television Series - Musical or Comedy
'Fleabag' (Amazon)
Best Performance by an Actor in a Television Series - Drama
Brian Cox ('Succession')
Best Performance by an Actress in a Television Series - Drama
Olivia Colman ('The Crown')
Best Performance by an Actor in a Television Series - Musical or Comedy
Ramy Youssef ('Ramy')
Best Performance by an Actress in a Television Series - Musical or Comedy
Phoebe Waller-Bridge ('Fleabag')
- Bang! Showbiz
Take your Radio, Podcasts and Music with you