Tonga Eruption and Tsunami: How you can help those affected
Publish Date

Wednesday, 19 January 2022, 12:59PM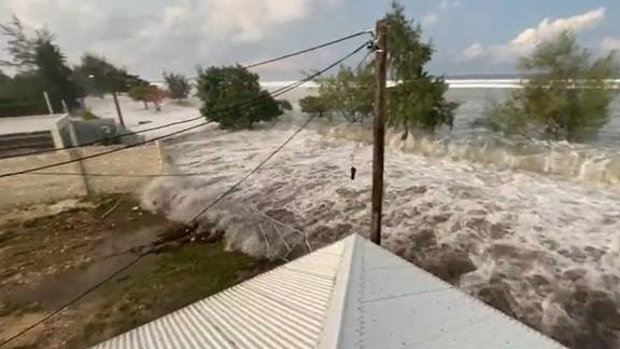 On Saturday, an unprecedented volcanic eruption and tsunami rocked Tonga, causing widespread damage to infrastructure, homes and livelihoods.
With communications still largely severed between the Pacific nation and the outside world, and the islands coated in a thick blanket of ash, the full extent of the damage is yet to be determined.
New Zealand is committed to assisting with Tonga's recovery, sending surveillance flights to check the damage, allocating $1 million in humanitarian assistance, and sending a C-130 Hercules and two Royal New Zealand Navy ships to deliver humanitarian aid and disaster relief stores, including water supplies.
But there are also a number of ways Kiwis can help fund emergency relief ...
Caritas Aotearoa New Zealand
You can donate to the Catholic agency to help fund supplies including water purification units, jerry cans, hygiene kits, buckets and water taps.
Tearfund New Zealand
The Christian non-profit organisation has set up an emergency appeal to help provide clean water, food and other lifesaving supplies to some of Tonga's most vulnerable families and communities.
Christian World Service
The non-profit organisation will help with emergency relief, including safe water, hygiene supplies, sanitation and replacement food crops.
Rotary New Zealand World Commuity Service
Rotary New Zealand has established a Tonga Volcano Eruption and Tsunami Appeal to provide access to potable water, land rehabilitation and assist with the restoration of livelihoods.
New Zealand Red Cross/Tonga Red Cross Society
Tonga Red Cross teams will be on the ground supporting evacuations, providing first aid if needed, and distributing prepositioned relief supplies. While New Zealand Red Cross is on standby to provide a range of assistance.
Oxfam Aotearoa
Oxfam in the Pacific runs two programmes in Tonga: The Water, Sanitation and Hygiene (WaSH) programme and Food Security and Livelihoods Programme. Oxfam also works with several partners locally, including Tonga National Youth Council, Tonga National Council of Churches (TNCC), Ma'a Fafine mo e Famili Inc (MFF), Tonga Leitis Association (TLA) and Civil Society Forum of Tonga (CSFT).
Take your Radio, Podcasts and Music with you