Tsunami warnings for the North Island after third massive earthquake
Publish Date

Friday, 5 March 2021, 10:02AM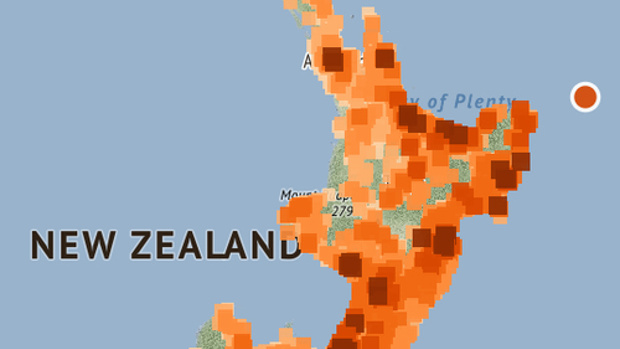 TSUNAMI WARNING LATEST
Swarm of earthquakes in Pacific - including magnitude 8.1 quake in Kermadec Islands at 8.28am (NZT) - spark Civil Defence warnings.

Tsunami warning for large parts of North Island coast - People near coast from the Bay of Islands to Whangarei, from Matata to Tolaga Bay, and Great Barrier Island told to move immediately

Chaos as workers, students, residents flee to higher ground - gridlock in Whangarei

8.1 earthquake followed 7.4 shake at 6.41am and 7.3 quake off North Island coast at 2.27am

Hundreds of workers, students and residents are fleeing to higher ground after a third, massive Pacific earthquake this morning - and a tsunami threat that affects much of the Northland, Bay of Plenty and East Coast coastlines.
Residents have been told to move immediately to higher ground after the magnitude 8.1 earthquake struck off the Kermadec Islands, 1000km northeast of New Zealand, at 8.28am (NZT). There is gridlock in cities such as Whangarei and on other roads around the affected regions.
STORY CONTINUES UNDER LIVEBLOG
"People near coast from the Bay of Islands to Whangarei, from Matata to Tolaga Bay, and Great Barrier Island must move immediately to nearest high ground, out of all tsunami evacuation zones, or as far inland as possible," the National Emergency Management Agency alerted at 8.45am.
The National Emergency Management Authority said residents must evacuate these areas even if they did not feel the earthquake. "DO NOT WAIT. A damaging tsunami is possible."
Civil Defence says people have enough time to get to high ground before any tsunami waves reach New Zealand, RNZ reports.
National Emergency Management Agency director Roger Ball says people should stay calm and gather some essentials such as a jacket and water.
He says people should let their neighbours know about the evacuation and help anyone who needs assistance.
People are being told to walk, run or cycle if possible to reduce the chance of getting stuck in traffic.
The National Emergency Management Agency says people should not return to low-lying coastal areas until the all-clear is given by Civil Defence.
According to USGS the latest quake to hit off the Kermedec Islands was magnitude 8.1 and 19.4km deep.
This is the third and largest quake above magntiude seven to hit the Pacific region this morning.
A 7.4 quake struck near Raoul Island in the Kermadecs at 6.41am and many New Zealanders were shaken awake by a magnitude 7.3 quake off the North Island's east coast at 2.27am.
Both of these earlier quakes triggered Civil Defence tsunami warnings that were later lifted but the third quake has sparked the strongest warnings yet.