Wild weather: A person has died in floodwaters, motorways blocked, Auckland airport evacuated
Publish Date

Friday, 27 January 2023, 10:08PM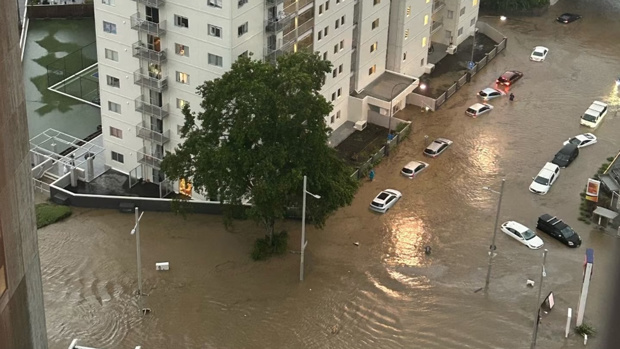 Mayor Wayne Brown has tonight declared a state of local emergency in the Auckland region.
"This declaration reflects the extent of damage, displacement and disruption caused by this evening's severe weather event and enables emergency services and response agencies to draw on resources, and enact additional powers, to assist affected Aucklanders," says Mayor Brown.
The region has experienced widespread damage from flooding and torrential rain, with reports of slips and inundation.
Infrastructure and emergency services alike have been overwhelmed by the impacts of the storm.
The declaration of the state of local emergency comes into force immediately and expires in seven days.
Mayor Brown has been closely monitoring the situation in his office all evening and has received continuous updates on the situation from Auckland Emergency Management, including the Duty Controller and his team.
The declaration was signed immediately following formal advice from the Duty Controller of Auckland Emergency Management that it was required.
Mayor Brown is urging residents affected by flooding to stay safe and take advice from emergency responders.
"We want to make sure that all residents are kept informed, and emergency services are able to reach those who are most vulnerable and at risk as quickly as possible. Do not put yourself at risk," he says.
It comes as a body has been found in Wairau Valley on Auckland's North Shore.
Police were notified at around 7.25pm after the body was seen by a member of the public, near Target Rd.
The NZ Herald understands the body was found in a culvert.
Elsewhere, a slip has come down on a house in Auckland's Remuera, the airport and supermarkets are flooding, houses are swamped by water and motorways are blocked as torrential rain continues to cause widespread chaos across the city.
A warning over the rain in the city has been extended to 3am by MetService.
Auckland Emergency Management has opened a Civil Defence Centre to assist those that have been displaced or need assistance following today's severe weather.
The centre is open now and is based at Saint Leonards Road School, 15 St. Leonards Road, Kelston.
Auckland Emergency Management's Duty Controller Andrew Clark says the region is expecting the severe weather to continue until the early hours of tomorrow.
"There are reports that some parts of the region have experienced a summer's worth of rain in a few hours and that has resulted in significant flooding.
"We continue to urge people to be vigilant and keep an eye on the weather forecast and your property.
"If it is safe to stay home, please do so. If you need to evacuate and can stay with family and friends, please do so in the first instance.
"If you have nowhere to go or are in need of assistance, we have established a Civil Defence Centre at Kelston. Please remember to never drive through floodwaters.
"If you do need to evacuate, please take essential items, like medicines, with you."
Elton John's concert has been cancelled.
Due to the unsafe weather conditions, Elton John's concert tonight will not be proceeding.
Flooding has also swamped Auckland Airport and is knee-deep in some areas.
"A short time ago, we made the decision to close the international terminal check-in area to visitors due to flooding inside the building," Auckland airport said in a statement.
Stay safe Auckland.
Take your Radio, Podcasts and Music with you