A royal wedding comparison
Section

Publish Date

Wednesday, 23 May 2018, 2:58PM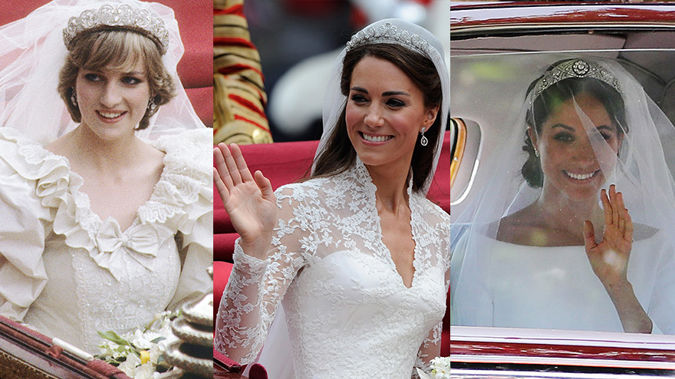 They were the three weddings that seemed to stop the world in its tracks.
And with so many eyes on them, it's no surprise that everyone had something to say about every single aspect of each one.
It's not until you break down every ceremony that you see how much care and attention to detail goes into them - all for an eye-watering bottom line after it's all over.
The Wedding Party: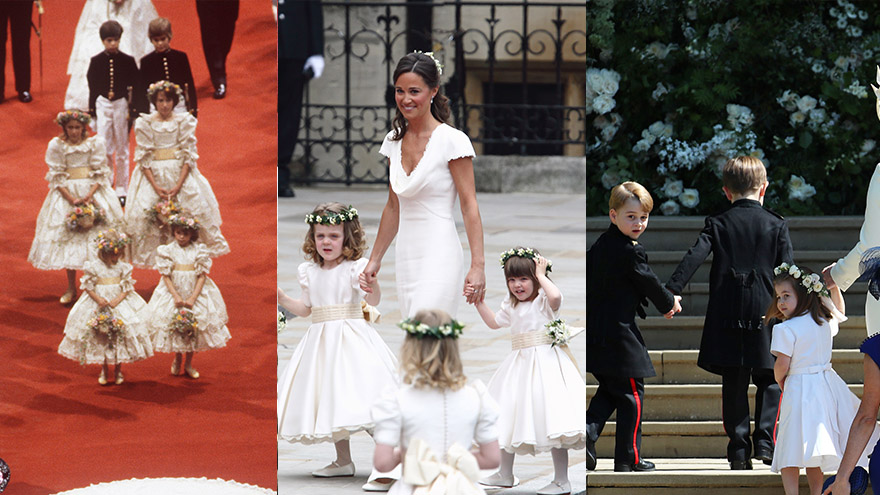 Princess Diana's wedding party consisted of the daughters of important royal friends, whereas Kate's was slightly less traditional with Pippa Middleton as her maid of honour.
As you saw over the weekend, Meghan definitely had the largest party with four page boys and six little bridesmaids. 
The Cake: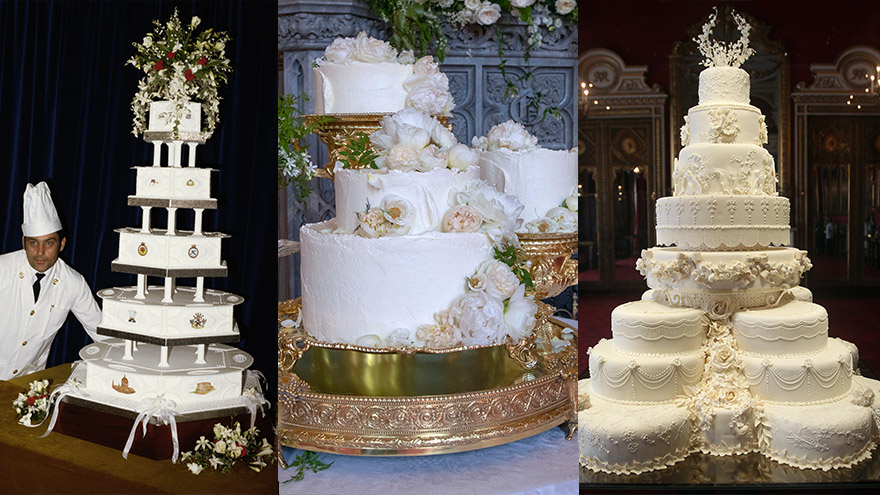 Here we have three very different cakes that all said something.
Diana & Charles' was a 5 tiered fruit cake with cream cheese icing, Kate & William had an amazing fruitcake that was just as impressive in size that it was beautiful.
Meghan & Harry opted for a less traditional option with their elderflower cake displayed on freestanding tiers.
The Procession: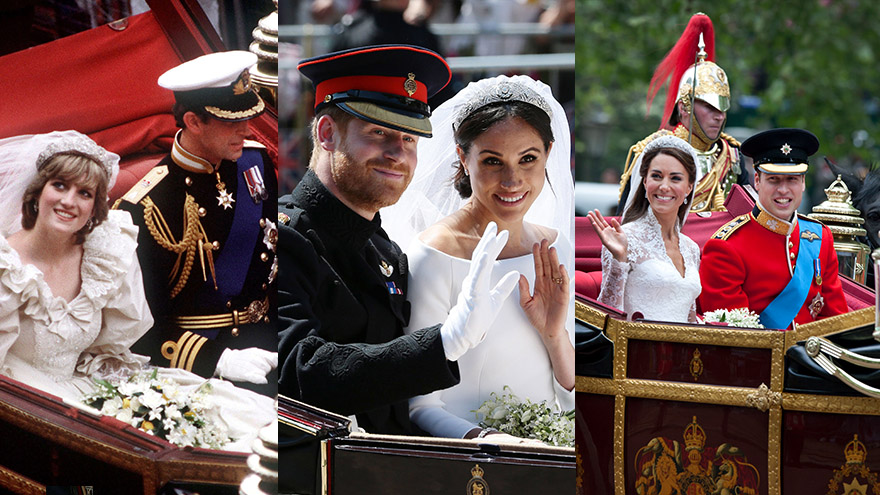 Diana & Charles' horse-drawn cart's procession followed a similar route through London as William and Kate's, whereas Meghan & Harry took a completely different one as their wedding was held in Windsor as opposed to London. 
The Bouquet: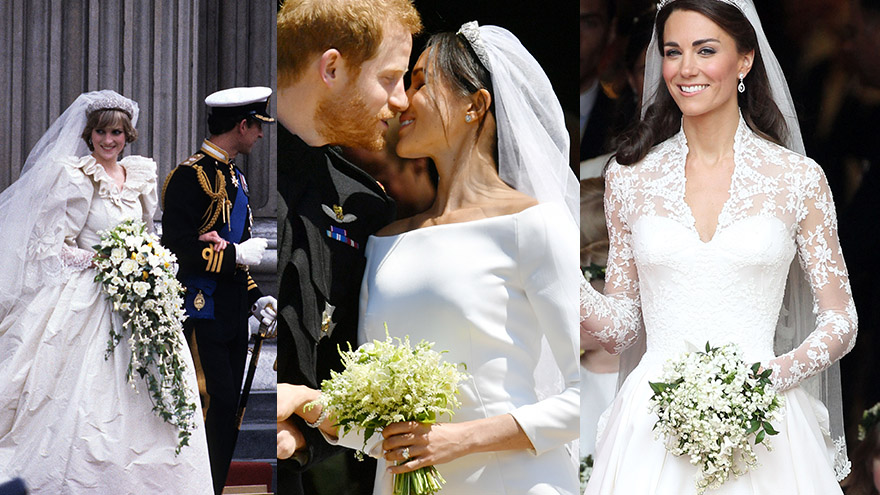 The three brides here opted for a simple but beautiful white bouquet with varying sizes. 
All three contained a sprig of myrtle which is the symbol of hope and love.
Beauty: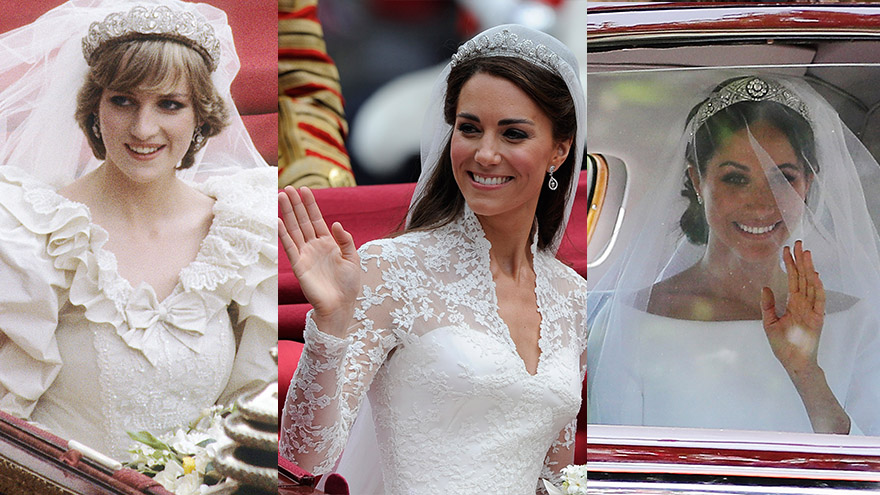 Both the hair and makeup of all three brides varied a significant amount between the weddings.
Diana's short hair was worn down, Kate had a half up and half down style happening, and Meghan sported a low bun.
The Engagement Debut: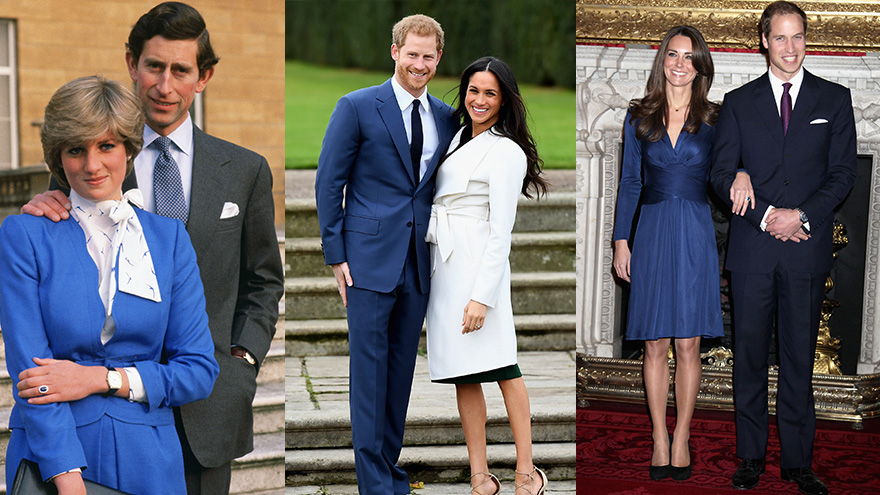 There's certainly a colour trend going on here!
As you can see, all three beautiful photos featured stunning backdrops and a few shades of blue.
The Dress: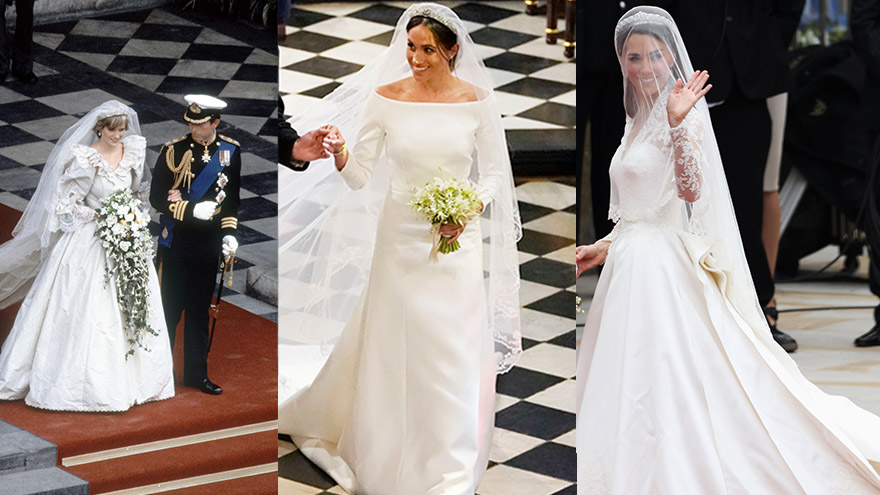 If there's one thing that lets you know that Princess Diana was married in the 80s, it's the dress.
Her puffy-sleeved gown was made by a London based husband and wife designers - David and Elizabeth Emanuel.
Kate's iconic long-sleeved dress was made by Alexander McQueen, and Meghan's minimalistic gown was from Waight Keller.
The Tiara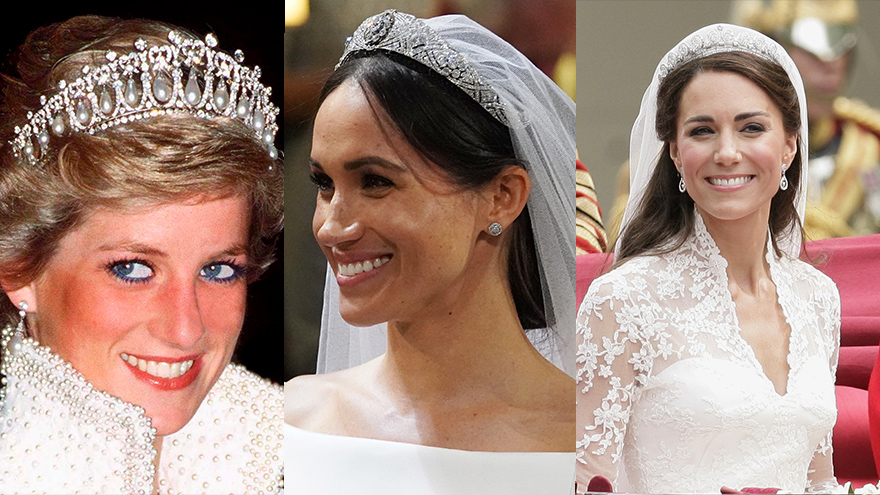 All three brides wore a beautiful tiara on their respective days, Diana wore the beautiful Spencer tiara which contains a combination of royal family heirlooms and jewels.
Kate's tiara was the Cartier Halo Tiara out of Queen Elizabeth II's collection, Meghan also borrowed one of the Queen's pieces, wearing a diamond center-stone adorned filigree tiara.
Meghan's tiara was first designed for Queen Mary, in an official statement about the piece, the palace said: "The bandeau, which is made of diamonds and platinum, is formed as a flexible band of eleven sections, pierced with interlaced ovals and pavé set with large and small brilliant diamonds. The centre is set with a detachable brooch of ten brilliant diamonds."
The First Kiss: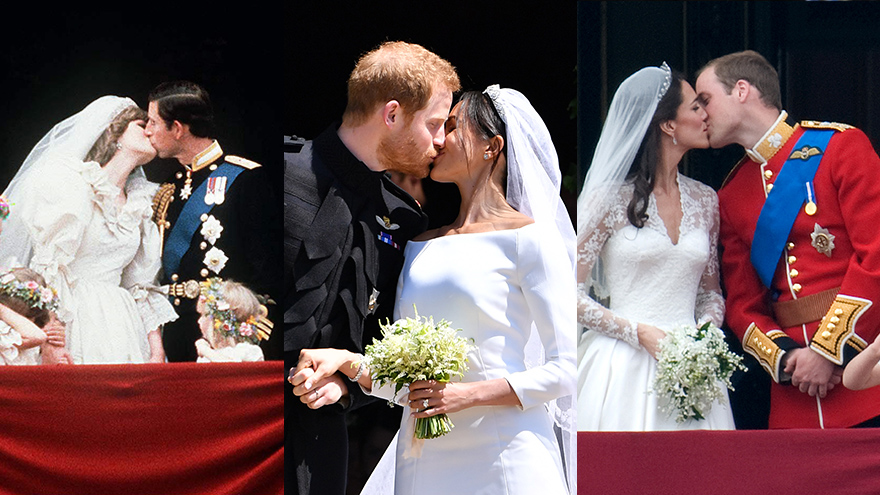 Now for the iconic shot that goes down in history each time.
Both Diana & Charles and William & Kate shared their first kiss on the balcony of Buckingham Palace.
Meghan and Harry shared a few adorable kisses before this snap, but sealed the deal with a smooch on the steps of St George's Chapel.