Toni Street's 2023 Christmas Gift Guide
Publish Date

Monday, 30 October 2023, 6:05AM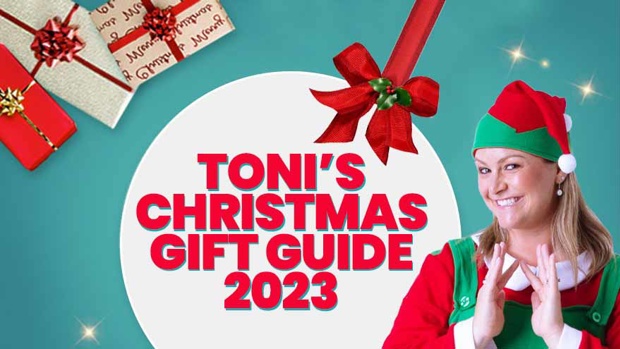 'Tis the season for pavlovas, pōhutukawas, good cheer, and of course, gift-giving!
This is probably my favourite thing to do at this time of year - to give you an extensive Christmas Gift Guide!
I know how hard and how crazy it is at this time of year, and it can be really stressful when you know you have to get a gift for someone and you want to make it good but you just have no ideas, particularly if you've left it to the last minute.
So I'm here to help you! 
I've got my best gift recommendations for women, men, mums, dads, children and everyone in between! So listen below and read on!
Gift Guide: Charity
Gift Guide: Women 30+
Chunky Earrings - I got a pair of Supperette's Ducle earrings recently which I love! (superette.co.nz)
Curated Botanics (CuratedBotanics.com)
Home Gel Nail Kit (nz.gelous.co)
Electric Throw Blanket 
Saben x Blunt Umbrella (saben.co.nz)
Oodie (TheOodie.co.nz)
Wine Subscription (WineFriend.co.nz)
Coola Sunscreen for tanning (Coola.co.nz)
Dyson Hairwrap or GHD Curling Wand
MAC Eyeshadow Palettes (MeccaBeauty.co.nz)
Charlotte Tilbury bronzer (MeccaBeauty.co.nz)
A Voucher for a stylist
TicketMaster/Ticketek Voucher
Organic self-care pack (DoingBitByBit.co.nz)
An Augustine gift bundle/gift box (Augustine.co.nz)
Cosmetic Organiser - for makeup or perfumes
Gift Guide: Men 30+
Bug-A-Salt (BugASalt.co.nz)
Black & Black Roy Leather Bracelet (TrendHim.co.nz)
Electric Screwdriver
Vacuum Packer (Briscoes)
Powered Pruners (Bosch)
Black + Decker Leaf Blower/Sucker (BlackandDecker.co.nz)
Beer Subscription (BeerHug.co.nz)
Amazon Echo
Neon Sign
ASB Classic tickets (ASBClassic.co.nz)
Hooded Towel (Backdoor.co.nz)
Gift Guide: Preteen Girls (7-12)
Anything Barbie!
Weighted Blanket - I recently got my daughter a Barbie one (TheOodie.co.nz)
Squishmallows
Liquid Chalk pens
Worry Doll necklace (BOandBala.com)
Coloured Trolly for the bedroom (Kmart)
Konsilee Toothbrush Holder (Konsilee.com.au)
Flared leggings
Cowboy Boots
Skincare:
Gift Guide: Teen Girls (13-17)
Drunk Elephant skincare
White Fox hoodie & sweatpants (whitefoxboutique.com.au)
A Turntable
MCo Beauty products (Chemist Warehouse)
Frank Green drink bottle
Denim Jacket - patches are a good extra too (Spotlight)
Coola Sunscreen (Coola.co.nz)
Concert or Festival tickets
Air Jordans
A fuel voucher
Oodie or weighted blanket (TheOodie.co.nz)
Gift Guide: Boys (7-14)
Teenage Mutant Ninja Turtles action figures - They're back in a big way!
DIY Miniature-house book ends (Robotime/Rolife at Farmers or Spotlight)
Glow In The Dark Puzzle (TheJigStore.co.nz)
Slushie Cup/Maker (Farmers or Mighty Ape)
Neon Sign (NeonDesign.co.nz)
Remote Controlled Cars 
Kids Against Humanity 
Blaze Pods - perfect for sporty kids! 
Football Goal or Mini Tennis Net
BlackHawk Electric Skateboard (BlackHawkBoards.co.nz)
Crocs
Gift Guide: Young Kids (1-5)
Connetix Tiles (LittleandLoved.co.nz)
Customised Keepsake Boxes (HelloSundayNZ.co.nz)
Zoo/Wildlife park voucher
Sensory Swing (LittleNation.nz)
Gift Guide: For Those Hard To Buy For
UBEREats Voucher
Micro Munchy Toastie Maker
Sampler Biscuit Box (BoutTimeBrownies.co.nz)
Bad Rabbit Cocktail Keg (BadRabbit.co.nz)
Photo Book (MilkBooks.com)
Batched Cocktails (PremiumLiquor.co.nz)
Gutterboard game
Personalised Doormat (DontBeADoormat.co.nz)
Hinza Beach Bag (PaperPlanesStore.co.nz)
Joseph Joseph Silicon Hotpot Stand (Catch.co.nz)
Gift Guide: Under $20
Croc pins or Jibbitz 
Kmart Tumblers
Hot Milk Stirrers
Frixion Pens - erasable!
Gift Guide: Over $500
Millo Lounger
Dyson Supersonic Hair Dryer
Alex and Sony Print (AlexAndSony.com)
Deadly Ponies Jeweled Briefcase (DeadlyPonies.com)
Dyson Airwrap
Slushie Machine - perfect for frozen margaritas! (MeadowFrost.co.nz)
Happy holidays and happy shopping to you and yours!
Take your Radio, Podcasts and Music with you