Baby Joy For Dame Valerie
Publish Date

Sunday, 30 April 2017, 9:11AM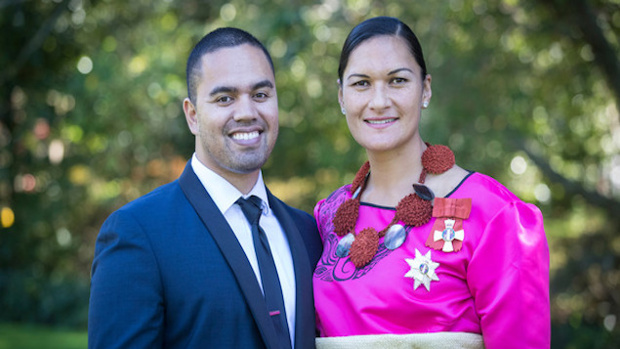 Dame Valerie Adams is about to become a mum - with New Zealand's Olympic shot put queen beaming "this is bigger for me than any gold medal".
In an exclusive interview with the Herald on Sunday, double Olympic champion Dame Valerie and husband Gabriel Price have revealed they're over the moon to be welcoming their first baby, due in October.
For four months the pregnancy has been a closely-guarded secret, with the happy couple and their confidants keeping the high-profile addition to Team Adams well under wraps.
While doctors gave the all-clear to go public after 12 weeks, Dame Valerie, 32, said instinct told her to be patient and keep things secret for one more month, "just in case".
Now almost halfway through her pregnancy, the much-loved Kiwi star, who was anointed the youngest Dame in New Zealand history four days ago, says she is thrilled to celebrate her second piece of great news in the space of a week.
"We couldn't be happier," she said. "I've always wanted to be a mum. This is bigger for me than any gold medal.
"Gabe and I kept it between us for a very long time. I kind of freaked out a little bit because when you find out you start reading loads of things - and your brain naturally registers all the bad stuff.
"For the first time I wasn't able to control everything in my life and Gabe and I just felt like taking our time in letting people know was the right thing to do.
"But to finally tell people, that's really fun. We can relax a bit and start enjoying it."
A clue came earlier this month when Dame Valerie' name was missing from Athletics New Zealand's squad for August's World Championships in London.
While missing a pinnacle event is disappointing, she said the timing of her pregnancy could not be better for her sporting career to continue.
And that includes going for gold at next year's Commonwealth Games in Australia and a fifth Olympic campaign in Tokyo 2020 - where she could become the first New Zealand athlete to win gold at three different Olympic Games.
"I'm definitely keeping my foot in the door," Dame Valerie said.
"If there was more time to the Commonwealth Games that would be awesome, but, I've got six months [from the birth]. I don't know what I'll be like afterwards, time will tell, but I'm going to give it my best shot."
Family has always been extremely important to Dame Valerie and it's with a lump in her throat she acknowledges her baby news can't help but make her think about her parents - mother Lilika and father Sidney, who died in 2000 and 2006 respectively.
However, she said she is determined to pass on something her beloved mother instilled in her.
"One thing Mum taught me was to be proud of my Tongan heritage - and that includes speaking the language. I'm determined to pass that on, that's really important to me," Dame Valerie said with a tear in her eye.
"It's always tough when they can't be there, whether it's an Olympics or winning a medal. But this one is that little bit harder."
Price, 32, who married Dame Valerie a year ago, said keeping the good news quiet had been an unusual experience.
"Being a father is something I've always wanted and I'm excited to be able to do that with someone I love so much," he said.
"Living through the experience so far, keeping the news out of the headlines, has been interesting because you want to tell the world how excited you are. But we just wanted to wait for the right time."
While the couple are yet to find out whether they'll be holding a little boy or girl in October, the baby will share both parents' names, with a surname of Adams-Price.
And though the Adams sporting gene is clearly strong, with Dame Valerie's basketball star half-brother Steven forging a stellar career in the NBA, she said there will be no pressure placed on the little one's career path.
"I've been very lucky to live out my dreams," she said. "I want my child to have the same opportunity.
"If that's in sport, fantastic, we'll give him or her all the support they need. But the same goes for whatever they want to do.
"Gabe and I are thankful for all the support people are giving us, from friends and family to sponsors like Visa. It's fun starting to see how excited other people are for us."
Source: NZ Herald
Take your Radio, Podcasts and Music with you