Dinner Winner: Eye fillet with Parma Ham, Truffle Mushrooms, Spinach, Red Onion and Blue Cheese
Publish Date

Wednesday, 4 February 2015, 12:48PM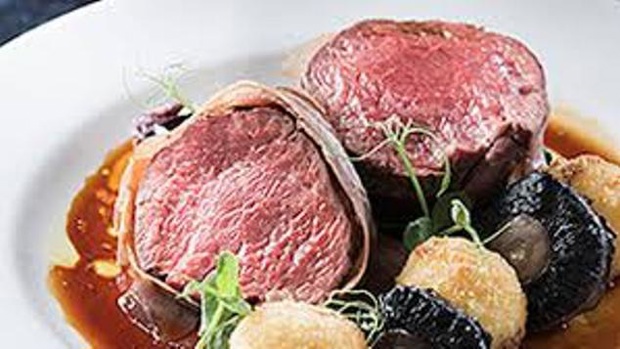 Congratulations to Scott Corbett, owner and head chef of Whitianga's No8 Restaurant & Bar, winner of the 2014 Silver Fern Farms Premier Selection Awards with this delicious dish that the judges called "faultless" - having sampled it, I have to agree!
Ingredients:
2 x Silver Fern Farms Eye Fillet 300 gram packs
200g blue cheese
1/2 cup red onion jam
200mls pinot noir
4 portobello mushrooms
Drizzle of olive oil
2 cups mashed seasoned potatoes
1 egg
Flour and breadcrumbs (enough to coat the pom poms)
1 cup of cream (for cooking the spinach)
1 bunch spinach
1 cup of reduced beef stock (store bought is fine)
4 slices Parma ham (to wrap the eye-fillet steak in)
Drizzle of truffle oil
Method:
1. Line ice cube dish with cling film and press blue cheese into four moulds until they are each one third full. Heat a portion of pinot noir until boiling and whisk in two teaspoons of gelatine until dissolved. Top the blue cheese with one third red onion jam then pour the wine mixture over cubes and leave to set in the refrigerator.
2. Place mushrooms on a baking tray, season well with salt and pepper, splash generously with olive oil and roast in oven for approximately eight minutes until three quarters cooked. While hot, take small cutting tool and cut as many rounds as possible from mushrooms and place in container. Squeeze excess juice from the off-cuts (this must be done while hot) and combine with truffle oil. Drizzle over rounds to marinate.
3. Roll mashed potatoes into 3-4cm diameter balls and crumb using egg and flour ingredients.
4. Cook steak to your liking then while resting the steak, thoroughly wash and drain the spinach.
5. Reduce your beef stock with a little pinot noir until it is of coating consistency.
6. Bring cream to boil, add spinach, season well and cook till wilted. Drain all excess cream and keep warm.
7. Shallow fry potato balls till golden, warm through mushrooms. Wrap steak in Parma ham and allow to rest for a further three to four minutes.
8. On a warm plate place three potato pom poms, two mushrooms and spinach. Carve meat in half and place on spinach. Add one jelly cube per plate, drizzle with the beef stock/pinot noir jus and drizzle with truffle oil. Enjoy!
Take your Radio, Podcasts and Music with you