The Best Romantic Movies Of All Time
Publish Date

Tuesday, 21 July 2015, 1:18PM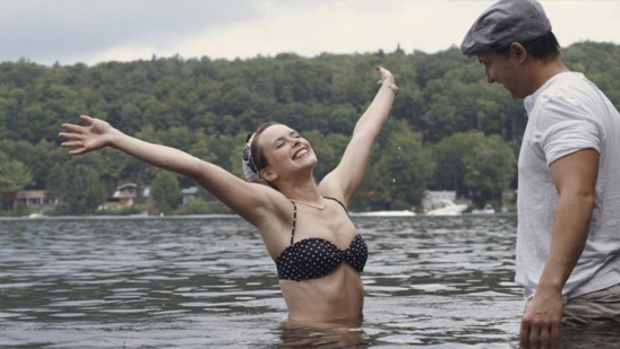 Sometimes you just can't beat a bit of romance. We've compiled a list of the best romantic movies of all time. It's cold outside which means it is perfect movie watching weather. Wrap up warm, put the fire on and prepare for your heart strings to be tugged on. Here are the Best romantic movies of all time...
1. The Notebook
One of the most widely recognized and well-loved romantic dramas of all time, The Notebook details the love affair between wealthy teenager Allie and local worker Noah, as narrated in the present day by an elderly man. Despite being engaged to an attractive lawyer, Allie cannot resist reuniting with Noah when he enters her life many years later. 
2. Somewhere In Time
Christopher Reeve stars as writer Richard Collier, who, after meeting an intriguing old lady, becomes obsessed with learning more about her life. Upon discovering she is a famous actress from the early 1900s, he travels back in time to meet her—but can their love withstand the time difference, and the actress' disapproving manager?
3. Up
Pixar's adorable animated film tells the story of 78-year-old Carl Frederickson, who is determined to fly to South Africa to fulfill a promise he made to his late wife, Ellie. What Carl doesn't realize is that he's traveling with company: 8-year-old Wilderness Explorer Russell is on board.

4. Love Actually
Not one, not two, but 10 intertwined love stories are in play in Love Actually, which is set primarily in London during the frenzied weeks leading up to Christmas. A romantic comedy and holiday favorite wrapped into one, this is a movie worth watching over and over again. 
5. Serendipity
After meeting by chance on Christmas Eve, Jonathan (John Cusack) and Sara (Kate Beckinsale) decide to leave it up to fate as to whether they will meet again. Years later, when they are both engaged to be married to other people, they can't seem to forget about their chance encounter—and the possibility of falling in love. 

6. Moonstruck
A widowed Brooklyn bookkeeper accepts a marriage proposal from a pleasant middle-aged man, despite the fact that she's not in love with him. After convincing herself it is the safe thing to do, she begins to fall in love with his estranged younger brother.

7. The Princess Bride
One of the most popular romantic fantasy films of all time (it's safe to say there's a strong cult following), The Princess Bride tells the story of the young and beautiful Buttercup, who is kidnapped on the eve of her wedding to Prince Humperdinck. It is up to Westley, her childhood farmboy and one true love, to save her.
8. You've Got Mail
Perhaps the first love story focused on Internet romance, this beloved romantic comedy tells the story of Kathleen Kelly (Meg Ryan) and Joe Fox (Tom Hanks), who chat anonymously online without realizing they are business rivals in real life. 
9. Gone With The Wind
This historical romance story, adapted from Margaret Mitchell's 1936 novel, narrates the life of the beautiful Scarlett O'Hara during the Civil War. Scarlett struggles between her pursuit of Ashley, who is to be married to his cousin, and her husband Rhett, who knows she loves another man. 

10. An Affair To Remember
In this 1950s film, a handsome playboy and a former nightclub singer meet onboard a cruise from Europe to New York. Despite the fact that both are traveling to see their significant others, they agree to meet six months later at the Empire State Building. But what happens when one doesn't show? 
11. P.S. I Love You
Before his life is taken by an illness, Gerry (Gerard Butler) writes his wife, Holly (Hilary Swank), a series of letters that will guide her through the grieving process. The letters arrive to Holly in a number of surprising ways, and open her up to the possibility of loving again. Cue the waterworks. 
12. The Bridge Of Madison County
Based on the best-selling novel by Robert James Waller, this romantic drama details the affair between Francesca, a housewife, and Robert, a photographer on assignment forNational Geographic. Although short-lived, it is clear the affair was significant to Francesca, who writes about it in a series of diaries.
13. The Holiday
A Christmastime favorite, The Holiday weaves together two romantic plot lines—one of Iris Simpkins (Kate Winslet) and another of Amanda Woods (Cameron Diaz). After agreeing to swap houses for Christmas, Iris falls for a film composer in L.A., while Amanda becomes enamored with Iris's brother in London.
14. Roman Holiday
After falling asleep on a park bench in Rome, Princess Anne (Audrey Hepburn), who had set out to see the city on her own, wakes up to find herself in an American reporter's apartment. While initially focused on nabbing an exclusive interview, the reporter ends up falling in love with the princess. 
15. When Harry Met Sally
Harry and Sally meet after graduating college in Chicago, when Sally gives Harry a ride to New York. Over the next 10 years, they become close friends—but can they remain friends without sex ruining the relationship?

16. Breakfast At Tiffany's
Starring Audrey Hepburn and George Peppard, this 1960s romantic comedy details the relationship between Holly, a charming socialite who shies from commitment, and new neighbor Paul, an aspiring writer who becomes fascinated with Holly's lifestyle.
17. Titanic
As told from the perspective of 101-year-old Rose, Titanic is the story of 17-year-old Rose's relationship with artist Jack, whom she meets aboard the RMS Titanic. When the ship hits an iceberg, they must fight to stay alive—but Jack's lower-class status means he's in greater danger. 
18. While You're Sleeping
Sandra Bullock stars in this romantic comedy, in which she plays a fare token collector who saves a handsome commuter's life. While letting his family believe that she was his fiancée, she begins to fall for his younger brother Jack.
19. Sleepless In Seattle
After being persuaded by his son to talk about his late wife on a radio show, handsome architect Sam begins to receive letters from hundreds of women. Annie, a reporter, asks to meet him at the top of the Empire State Building (a la An Affair to Remember) on Valentine's Day—but can Sam's son convince him to go?
20. Doctor Zhivago
Covering the years prior, during, and after the Russian Revolution, this film follows the life of poet/physician Yury Zhivago. Although married to an upper-class girl, he falls in love with with a political activist's wife. 
Take your Radio, Podcasts and Music with you