The Girl With A Heart Of Gold: Helena McAlpine Dies Aged 37 After Battle With Breast Cancer
Publish Date

Thursday, 24 September 2015, 8:27AM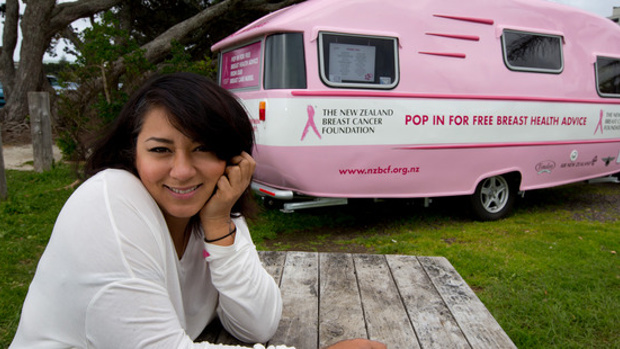 After a six year battle with breast cancer, television personality Helena McAlpine, 37, has died at home, surrounded by friends and family.
McAlpine was a champion for breast cancer awareness, telling the Breast Cancer Foundation: "Before I die, I want to get a message to every woman in the country that they need to look after themselves and their friends and family."
She was first diagnosed in 2009.


Helena McAlpine was a champion for breast cancer awareness. Photo / Supplied
By 2011 it seemed she had beaten the disease, but it returned, and in January 2012 she was told she had only months to live.
She had surgery to remove her ovaries, but 18 months later was told the cancer had spread to her liver and bones and was given a prognosis of between one and three years.
At the time, she told a woman's magazine: "I was angry that I couldn't halt time."


Helena was first diagnosed in 2009. Photo / Supplied
In October 2012 she told the New Zealand Herald she did not want to be remembered as the girl who died from cancer, but as a "good-time party girl who's a highly irresponsible adult - with a heart of gold, though".
In October last year, she headed the Breast Cancer Foundation's cancer action month campaign.
Breast Cancer Society head Evangelia Henderson said McAlpine had been an amazing champion for breast cancer awareness since the day she was diagnosed.
"She connected amazingly strongly with young women. Whatever she did she did it from the bottom of her heart - she didn't want young women to have to go through what she went through.
"She was generous with her time and with her wonderful voice and we are going to miss her terribly."
The treatments to manage her symptoms and prolong her life were punishing, Ms Henderson said.
"Yet Helena always responded to Foundation requests for help."
McAlpine shared her story through magazine features, at speaking engagements, on television through documentaries and in current affairs.
She featured in two national TV awareness campaigns for the NZ Breast Cancer Foundation, and in educational DVDs, voiced radio ads and lent her face to education posters and fundraising appeals.
British-born McAlpine moved to New Zealand at 22 after marrying a Kiwi she met in Europe.
She hosted a show on MediaWorks' music channel C4, but was made redundant in 2009, the same year she was diagnosed with cancer.
Last night, tributes began to fill McAlpine's Facebook page, with Brooke Howard-Smith writing: "The world is a far less amazing place tonight."
DJ Nick Dwyer tweeted: "Rest In Peace to someone truly truly unique and amazing. A wonderful human being who lived life to the fullest."
Another friend, Nina-Kim Foster, wrote on Facebook: "Beautiful Helena, you will always be the brightest star, the loudest burst of energy, the shiniest trinket and the unexpected bonus. Thank you for being my friend."
McAlpine is survived by her husband Christopher Barton and daughter Shannon, 15.
To donate, visit https://givealittle.co.nz/cause/helena
Take your Radio, Podcasts and Music with you