Girl Is Cancer Free After Getting A Blessing From The Pope
Publish Date

Monday, 28 December 2015, 3:16PM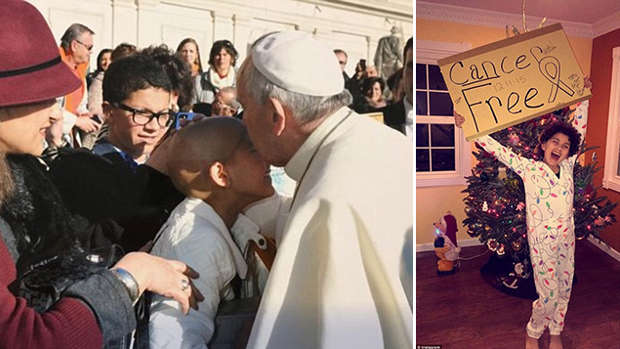 A strong 12-year-old girl is cancer free after being blessed by the Pope in Italy last year.
Grace West of New Jersey was diagnosed with stage four Neuroblastoma, a pediatric cancer that affects the nerve cells.
After intensive medical treatments and what Grace says is the power of her faith, she is fully healed.
Thanks to the Make-A-Wish Foundation Grace was able to fly to Italy to meet Pope Francis.
The Pope kissed her forehead and also said a healing prayer over her. She said that before he prayed over her that the Pope asked Grace to pray for him.
When she returned to New Jersey she underwent chemotherapy.
On December 11, Grace learned that all of the cancer in her body has been eradicated.
'The best Christmas gift I could ever ask for, it was the power of the prayer that helped me' Grace said.
Grace's family has said that their daughter's steadfast optimism along with her faith in God has contributed greatly to the success of her health.
'She stayed very strong very positive and has a strong faith and was a big part of it' Grace's mother told mother told Fox.
'The community was so supportive and I want to thank everyone' Grace said.
Fox reports that Grace must still undergo frequent scans and vaccinations to make sure that she stays cancer free for a very long time.


Source: www.dailymail.co.uk