Little Boy Born With No Nose, Eyes Or Upper Jaw Unveils His New Face
Publish Date

Monday, 29 June 2015, 11:47AM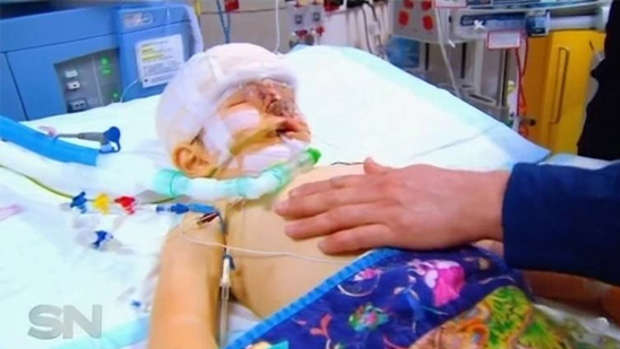 A toddler who was born with no eyes, a hole in the middle of his face where his nose should be and no upper jaw has undergone reconstructive surgery and unveiled his new face.
Yahva El Jabaly was born with defects after complications in the womb stopped the bones in his face from fusing together. His surgery was expected to take 8 hours but took 18 hours and has given him the opportunity to live a normal life. Melbourne doctors remodelled his face the result is incredible! 
During the surgery Yahya lost nearly half of the blood from his body and had the lining of his brain dissected from his skull.
A team of surgeons worked in shift rotation and the pricey surgery was funded partly by donations and doctors who offered their services free of charge.  
Yahya's plight first went global when the father of his closest friend took to Facebook, pleading for medical professionals to help the boy lead a normal life.
From across the world, the post was read by Fatima Baraka, a Melbourne breast cancer survivor who was born in a village close to Yahya's.
Ms Baraka took it upon herself to search for a surgeon who would be willing to transform Yahya's face and soon found Melbourne reconstructive surgeon, Tony Holmes.
She then traveled to Yahya's home where she met the toddler and his family for the first time before bringing them to Australia.
'I just can't believe what he's been through and how he just comes out and gets better and better every time,' Ms Baraka said two weeks after Yahya's successful facial surgery. 
'He looks like a normal little boy. 
'He's a very smart little kid, he's got so much potential, there's no reason for him not to have a good, healthy bright future.' 
Ms Baraka said the little boy 'entered her heart' and she instantly fell in love with him however she admits she was 'quite shocked' when she first met Yahya and his family.    
'I was a little bit horrified to be honest,' she said. 
 Watch The Full documentary HERE: