Note Found In Hotel Room Sheets Goes Viral
Publish Date

Wednesday, 6 April 2016, 10:58AM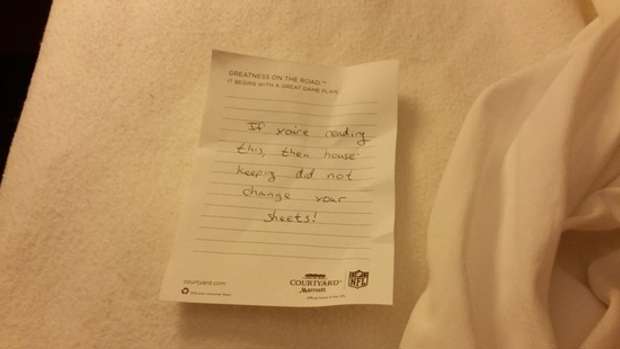 A hotel guest made a shocking discovery regarding the cleanliness of hotel sheets.
In a post on Reddit, a user wrote that they "Heard something crinkle when I settled in for the night" and posted a picture of the note they found in their bed.
"If you're reading this, then housekeeping did not change your sheets," the warning written on paper from a Courtyard Marriott notepad said. The image has since gone viral.
While the location of the hotel is unknown, it was believed the image was posted by someone in the US - however, they have since deleted their account.
In the thread, others shared their own strange discoveries in hotel rooms.
"Found a used condom under the side of the bed once when I stayed in an extended stay hotel in Florida. Disgusting. Housekeeping there was a joke," one user wrote.
Other users described finding used underwear and even faeces in a hotel rubbish bin.