This Viral Blog Will Inspire You To Embrace Change
Publish Date

Wednesday, 2 December 2015, 2:52PM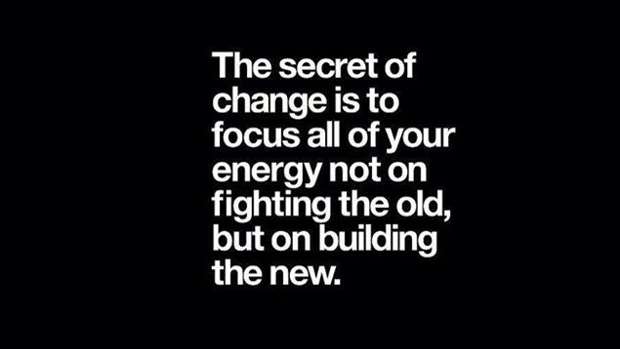 While it's an experience not many of us enjoy sometimes we just have to deal with it. 
We love this outlook! It's so thought provoking...


The Inevitable Secret Of Change. 
There are some things in life that we just can't do anything about. One of those things is change. Change is all around us, it happens every day. It's scary, it's uncomfortable and sometimes it would be nice if change wasn't a thing. That however isn't the case nor will it ever be.
When change comes about you've got two options. You can sit there and think about what it was like before, think about how great it was and think 'man I wish it was how it used to be' or you can just got on with it. Keep the memories of the good times and get used to how things are now. You might not like it but nothing in this world is forever. Nothing in this world is definite. The more humans develop the more temporary everything becomes. Even in my lifetime I have noticed this. As technology changes so rapidly companies that build technology are no longer making their items to last. They're making them as cheap as possible so people can afford to buy them use them for a year or so and then update to new technology when it becomes available.
Change isn't just a thing in technology it is present in people. People come into our lives and if they do stick around they change. Their situation changes. The world around them is changing so of course they're going to have to change to their surroundings. While sometimes it is hard to see the people around you changing they never intend to hurt you. They are still just trying to find their way in this big mysterious world and it's as hard for them as it is for you. There are so many thoughts feelings and emotions running around in their head that you just can't see. Maybe this friend of yours has become busier. Maybe they have to make the most of their time and maybe they've got to be more organised and to you it feels like you're loosing them. But you're not.
We're at a funny stage in life when people are meeting people and spending time with each other. We're at that weird stage in life when people are buying houses, going over seas, getting married, deciding what to do with life. Over thinking the present, under thinking the present, trying not to think about the present. We're in a stage in life where everyone is going at their own pace. We're at a stage in life when there is no wrong or right answer. We're at a stage in life where you'll feel knocked down, you'll feel small you might feel really insignificant but you're not.
What you're doing isn't going unnoticed. What you're doing is appreciated just don't get to caught up in change. Don't over think the situation. Life is life and you can think about it all you want but eventually you need to realise life isn't going to live itself. If you're unhappy decide what you want to do and set goals to make sure you can do it. Until you know what you want to do find something that is fun. If you try that and you don't enjoy it try something else.  If you don't enjoy that take some time off go and see the world. Write something, film something, sing something, do sports, read a book, climb a mountain, fly a plane there is an entire world of possibilities around you and literally nothing is stopping you. If there is something you want to do get out there and do it.
To me it feels like you're afraid of yourself. It's a fine line between arrogance and confidence but be confident. There are so many things that you're amazing at and you really do underestimate yourself. It goes without saying but get back up and keep riding because you never know what's around the corner.

- Source