A collection of your Iso-baking! See Mel and JT's favourite recipes, sent in by YOU!
Publish Date

Wednesday, 8 April 2020, 2:43PM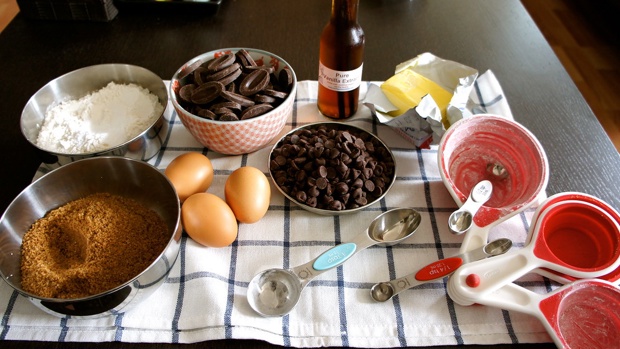 Welcome to Mel and JT's iso-bake Page! This page will be updated every day with photos and new recipes sent in by You! Send us your iso-bake photos and recipes over a Facebook or Instagram message, we would love to see them, and they could be featured on our page! We hope you enjoy, Happy baking! 
Pauline sent in this gorgeous looking table spread filled with homemade sesame seed lavosh crackers, feta dip and prawn timbale. Top that off with a glass of wine and you have yourself an evening to remember!
If you would like to recreate Pauline's platter, click the links below!

Elaine went freestyle and took ingredients from her pantry to create what she describes as a 'Lava Cake' with a thick chocolate mousse in the middle! While this recipe was improvised, we think we found something similar if you want to recreate Elaine's decadent dessert! 

Jason made a big batch of the perfectly neat and incredibly tempting chocolate chip cookies! Nothing screams a great day inside like putting on a good movie with a plate of warm chocolate chip cookies and a big glass of milk! Click the link below to make some at home!

Karen made a selection of beautiful and simple treats! She is the queen of small recipes, making both, three-ingredient fruit cake and two-ingredient pizza dough as well as some stunning apple roses! With some ingredients in short supply at the moment, I think we all need to take a leaf out of Karen's recipe book!

Noleen shared a very timely hot cross bun Iso-Bake! With Easter just around the corner, it's time to start whipping up those easter themed treats like Noleen!

Pauline created these beautiful looking afghans which look too good to eat! Luckily she made so many because We know they wouldn't last long! Afghans are such a kiwi classic so below is a link to the Classic, Kiwi, Edmonds recipe! 

Glen made these decadent chocolate salted caramel cookies with a salt chocolate base and an oozy caramel centre! Nothing screams naughty like these cookies! Get the recipe below and bake away!
Chocolate salted caramel cookies

Take your Radio, Podcasts and Music with you