Air New Zealand helps Kiwi dad pull off epic 15-year-long prank battle with daughter
Publish Date

Thursday, 2 May 2019, 11:38AM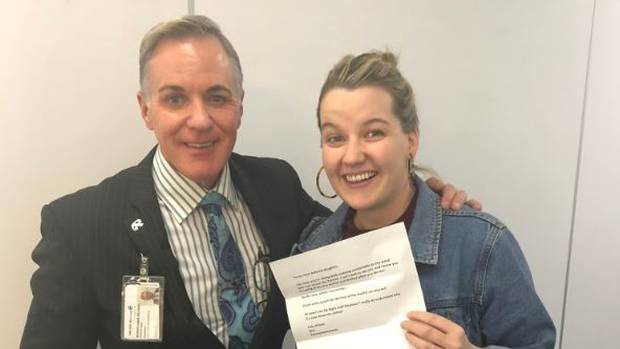 A Kiwi woman's father has upped the ante in their 15-year-long prank battle by involving Air New Zealand staff.
Christchurch-born actor, Bridie Connell, who now lives in Melbourne, has been in an epic war with her father on who can wish the other a "pinch and a punch for the first of the month" first.
She explained that most months are pretty low key, but sometimes they up the ante and go out of their way to get to prank the other person first.
Connell revealed this month she plotted her revenge on a three-hour Air New Zealand flight, but her father got her good in the most unexpected way.
On May 1, she was travelling to New Zealand for her cousin's birthday, however, it was too early to call her father to wish his a "pinch and a punch" and she wanted to wait until she landed.
While the actor was coming up with a plan, her father had other ideas.
Connell reveals that a flight attendant came up to her with a letter.
"To my most beloved daughter," the letter read.
"I do hope you're sitting back reclining comfortably as you wend your way across the Tasman. I can't wait to see you, and I know you are going to be very excited and thrilled when you see me!"
And then her father delivered the "punch": "By the way, while I remember... pinch and a punch for the first of the month, no returns!"
"Ps Aren't Air NZ flight staff fabulous? I really do understand why it's your favourite airline!", he wrote before signing off the letter with kisses.
Connell said she was annoyed that her father beat her to the punch, but was also very impressed.
This article was first published on nzherald.co.nz and is republished here with permission.
Take your Radio, Podcasts and Music with you