Allyson Gofton shares her delicious recipes for Boston and Chelsea buns
Publish Date

Monday, 24 October 2022, 9:55AM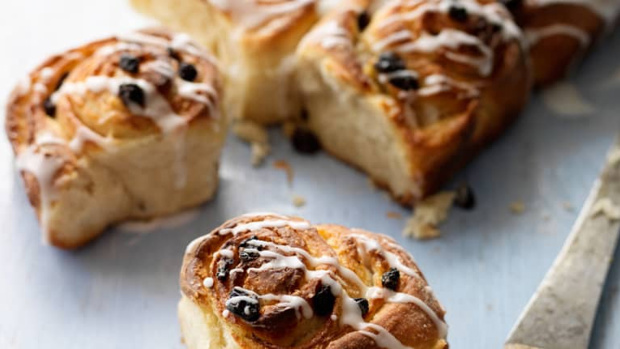 Author

By Allyson Gofton
When it comes to a culinary bun fight, there's plenty of doughy ammunition to choose from ...
The Boston Bun, a non-yeast raised dried fruit and spice-studded quick bread, has a wonderfully moist texture due to the inclusion of left-over, cold mashed potato. Iced thickly it is also known as a Sally Lunn.
Best results come from unseasoned, well-mashed, starchy potatoes, which ensures a moist, but firm texture unlike the cotton wool-textured, heavily spiced shop-bought versions.
Delicious warm and buttered generously.

On the other hand, the Chelsea Buns are prepared from a spiced, rich yeast dough, that's rolled out thinly and spread with butter, brown sugar and currant. The dough once rolled is cut into thick slices, that when laid on their side the buns resemble the swirls of a snail.
Baked and brushed with a sweet sticky glaze, the buns, while taking extra time to make, are a sticky treat well worth the effort.

Recipe:
Sally Lunn
Ingredients:
1 cup cold mashed potato
1 cup sugar
2 cups self-rising flour
¼ teaspoon salt
½ cup sultanas (or currants)
¼ cup milk
Vanilla Icing:
1 ½ cups icing sugar
Sifted 2 tblsp butter softened
Dash vanilla essence
1-2 tblsp milk
Method:

Preheat the oven to 180 °C and lightly grease a baking tray.
Beat the mashed potato and sugar together until smooth. Sift the flour and salt together and add to the mashed potato mix with the sultanas and sufficient milk to make a stiff dough.
Shape into a bun and place on the prepared tray.
Bake in the preheated oven for 30-35 minutes or until well risen and golden. Cool on a cake rack before covering generously with vanilla icing. Decorate with coconut if wished.
Vanilla Icing:

Work the butter into the icing sugar and then add the vanilla essence and sufficient milk to make a thick but spreadable icing.
Recipe:
Chelsea Buns
Preparation Time: 3 hours
Cooking Time: 15-20 minutes
Serves: Makes 12 buns
Ingredients:
Ferment
1 egg
1 cup water
3½ teaspoons active dry yeast
1 cup high-grade flour
1 teaspoon sugar
Dough
2½ cups high-grade flour
¼ cup sugar
1 teaspoon salt
50 grams butter, softened
Fruit and spice filling
75 grams butter, softened
¾ cup currants or sultanas
1½ teaspoons ground cassia or cinnamon
Grated rind 1 orange
¼ cup mixed peel
Method:
Ferment:

In a medium jug, use a fork to beat together the egg, water, yeast, flour and sugar. Set aside for 10-12 minutes or until the mixture is bubbly and frothy. On cooler days this may take a little longer.
Dough:

Sift the flour, sugar and salt into a large bowl and make a well in the centre. Pour in the bubbling ferment and use your hand to bring the dough together. Add the softened butter towards the end. It may be necessary to add 2-3 tablespoons extra water or milk to make a soft dough.
Turn the dough out onto a lightly floured surface and knead for a good 10 minutes until the dough is smooth. Turn the dough over in a clean greased bowl and cover with plastic wrap and a warmed towel and sit in a warm place for 40 minutes or until double in bulk.
Turn the dough out onto a lightly floured surface and flatten gently to deflate the dough. Do not knock down roughly.
Roll out to a 36-cm x 30-cm rectangle. Spread generously with the 75 grams softened butter for the filling. Toss together the remaining fruit and spice filling ingredients and scatter over the buttered dough. Roll up from the longer edge as tightly as you can.
Cut into 12x 3-cm thick slices and place the slices into a well-greased and lined 25-cm square cake tin or baking dish. Cover and leave for 40 minutes until double in bulk. Preheat the oven to 220ºC while the dough is rising.
Place into the preheated oven and immediately lower the temperature to 200ºC. Bake for 15-20 minutes or until the buns are golden and the dough is well cooked.
Remove from the oven and brush either with a little butter or for a sweeter finish a little sugar syrup. Cool in the tin for 5 minutes before turning out and serving warm with butter.

Simple sugar syrup:

Stir together equal quantities of sugar and water over a low heat until the sugar has been dissolved. Keep refrigerated. For the buns, you will need about 2-3 tablespoons sugar syrup to brush over.
Take your Radio, Podcasts and Music with you