Allyson Gofton shares her super easy liquor-infused mini lamingtons recipe
Publish Date

Friday, 27 October 2023, 3:49PM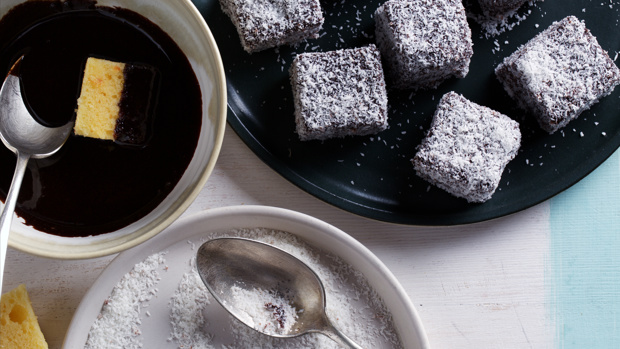 Lamingtons are a classic Kiwi bakery treat; with light, fluffy sponge cake squares coated in chocolate/raspberry sauce and rolled in desiccated coconut. But Allyson Gofton's recipe puts an irresistible twist on the old favourite.
Ingredients:
Sponge Cake
4 eggs
¾ cups caster sugar
1¼ cups self-raising flour, sifted
3 tablespoons hot water
1 tablespoon butter, melted
1½ cups desiccated coconut
Chocolate and Kahlua icing
3 cups icing sugar
½ cup cocoa
1 tablespoon melted butter
1½ cups hot milk
1 cup Kahlua
Raspberry and Galliano jelly
85g packet raspberry-flavoured jelly
1 cup hot water
¼ cup Galliano
Method:
Sponge Cake
Beat the eggs in an electric beater until light and fluffy. Beat in the sugar a little at a time until the mixture is thick and the sugar is completely dissolved.
Sift the flour over the egg mixture and fold in. Working quickly but with a light hand, fold in the hot water and butter. Do not beat.
Pour the mixture into a well-greased 23cm cake tin and bake at 180ºC for approximately 25 minutes or until the cake is elastic to touch and shrinking slightly from the sides of the tin. Turn the sponge out onto a cake rack to cool.
To make into lamingtons it is best to leave 1-2 days.
Cut into 3cm squares and dip into either Chocolate and Kahlua Icing or the Raspberry and Galliano Jelly. Drain for 1-2 minutes on a cake rack placed over a tray and then toss in the coconut.
Chocolate and Kahlua Icing
Sift the icing sugar and cocoa into a wide bowl.
Blend the melted butter with the hot milk and then stir into the icing sugar. The icing should be a smooth consistency. Add more milk if necessary.
Raspberry and Galliano Jelly
Dissolve the jelly crystals in the hot water.
Allow to cool and then stir in the Galliano. Once the mixture thickens to pouring consistency toss the cake squares in coconut.

Take your Radio, Podcasts and Music with you