Lone Star shares the recipe for it's iconic Milky Bar pudding - and it is surprisingly easy!
Publish Date

Saturday, 6 August 2022, 9:22AM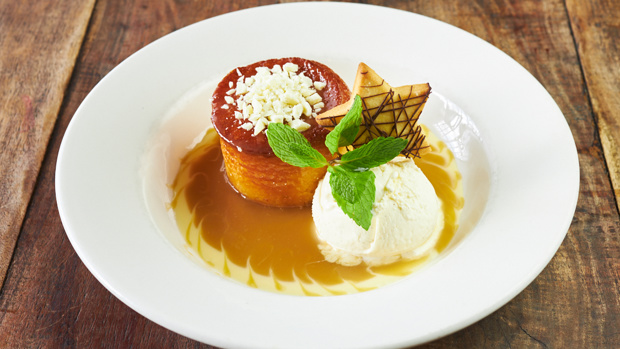 Forget the Colonel's 11 secret herbs & spices, Lone Star's Executive Chef, Gerhard Zitzenbacher, has revealed his secret recipe for their most popular dessert - and it does not disappoint!
Drizzled with decadent butterscotch and melt-in-your-mouth white chocolate sauce, you can now whip the famous Milky Bar pudding from your own kitchen!
Zitzenbacher shared the iconic recipe in celebration of the dessert being featured as part of their Winter Warmer Feast for two.
You and your dining partner can devour homemade pumpkin soup, sous vide New Zealand lamb rump, spring onion and feta mash, coleslaw, the legendary Lone Star garlic loaf and of course, the original Milky Bar Pud for only $99.
Makes: 5
Ingredients:
150g white chocolate buttons
190g butter
¾ cup caster sugar
3 eggs
1 ½ teaspoon vanilla essence
280ml buttermilk
2 ¼ cup flour
21/2 tsp baking powder
Method:
Preheat oven to 175º.
Melt the chocolate.
Cream the butter and the sugar in a mixer until fluffy.
Lightly whisk the eggs and add gradually to butter and sugar. Beat well between each addition.
Add vanilla essence and beat well.
Stir in the melted chocolate and buttermilk – don't be alarmed when the mixture curdles!
Fold in flour and baking powder.
Grease and flour five 11oz souffle ramekins, place a round of baking paper in the bottom of each ramekin.
Generously fill each ramekin to ¾ full of batter.
Bake until skewer comes out clean.
Leave for five minutes and run a knife around the outside before gently tipping out the puddings.
To serve, run Milky Bar chocolate sauce around the edge of serving bowl, place your perfected Milky Bar Pud in the centre, pour over plenty of butterscotch.
Butterscotch Sauce:
Ingredients:
250g butter
425g soft brown sugar
500ml cream
1 ½ tablespoons whiskey
Method:
Melt butter and sugar together in a pot. When sugar is dissolved, add cream.
Bring to the boil, then simmer and add whiskey.
Remove from heat and serve hot or pop in the fridge when slightly cooled.
Milky Bar Chocolate Sauce:
Ingredients:
1x 180g block of Milky Bar chocolate
100gms white chocolate buttons
250mls cream
Method:
Gently heat the ingredients together in a metal bowl over simmering water – be careful not to overheat!
Remove from heat and whisk to combine.
Refrigerate when slightly cooled.
Take your Radio, Podcasts and Music with you