Pilot's heartwarming speech to passengers brings plane to tears
Publish Date

Wednesday, 15 November 2023, 9:01AM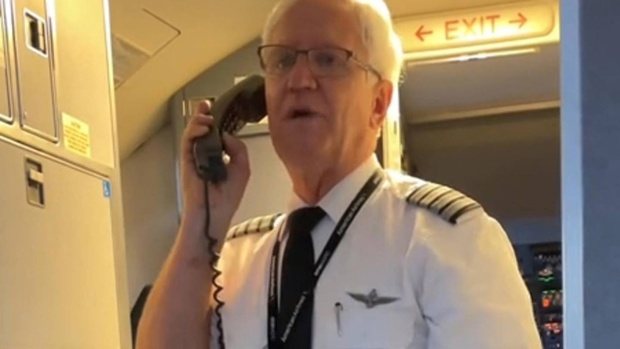 A passenger has captured the heartwarming moment a pilot brought a whole plane to tears after he delivered an emotional speech on his last flight after 32 years with American Airlines.
Jeff Fell was preparing to take off from Chicago, but instead of delivering his pre-flight instructions to passengers over the PA, he stood up in front of the whole plane.
After welcoming passengers on board, he revealed he was retiring and that this was his final flight.
He revealed it was odd to be doing the announcement where he could see the passengers, then he started choking up when he told passengers his family had joined the flight in the back row to be part of his last act of service.
"I normally don't stand up in front of everybody like this, I usually just stay in the cockpit and talk on the PA. If I get a little emotional please forgive me for that," he said.
With passengers still unaware of what was to come, he pointed out a group of "very important people" to him sitting at the back of the plane.
"They're the majority of my family who have come along with me on my retirement flight," Fell said.
"They're on board with me on my retirement flight after 32 years with American."
Fighting back tears, he added: "Thank you all for coming along with me tonight and celebrating this very memorable time in my life. I love all of you."
The plane erupted into rounds of applause before Fell interrupted to say: "I didn't want to get emotional but goodness gracious."
He then pulled out a piece of paper and read out a speech for his passengers and family.
"Finally for my wonderful wife Julie who has been at my side for the majority of my 32 years at American. She has been the rock, the solid rock in the foundation in our lives and our marriage. Her faith in the Lord, wisdom, strength and love has guided our marriage and family throughout these years. I love you and look forward to the next chapter in our lives. And welcome aboard everybody."
The video was uploaded to TikTok which has attracted more than three million views.
Thousands left comments of support, including some who were on the flight.
"I was on the flight! I gave him a hug after this announcement," one wrote.
Another said: "32 years of safe landings also. God bless him and all pilots."
"To think of the amount of families, people, and cultures he has single-handedly connected throughout the world. Thank you," a third wrote.
Fell was then honoured with a water cannon salute, a tradition used to mark the retirement of a senior pilot or other notable event.
It involves two airport fire trucks firing water over a passing aircraft.
This article was first published by the NZ Herald and is republished here with permission.
Take your Radio, Podcasts and Music with you