Reddit users divided over husband's terrible parking
Publish Date

Friday, 9 June 2023, 3:30PM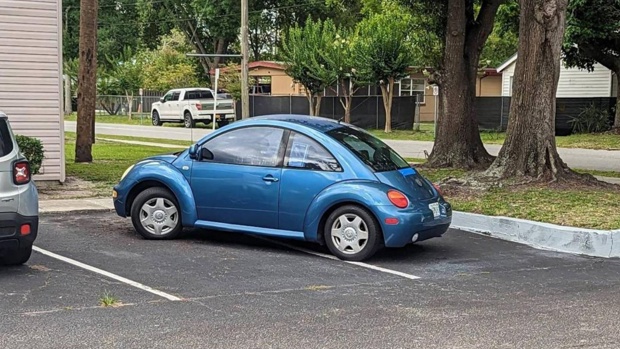 A neighbour has become enraged with the way a man parks while his wife is at work, and the internet is discussing what they should do.
Photos were posted to Reddit of the man's car which has been parked diagonally across two car parks.
Another neighbour noticed that the man parks that way most days and, believing it was intentional, headed online to vent.
"My neighbour, everyone. He parks like this when his wife isn't home and moves it back when she's back so they can both park in one of the few spots with shade," the neighbour posted to the 'Mildly Infuriating' Reddit group.
"This has been happening for months already and the administration doesn't do anything about it."
Internet users came up with many quirky ideas as to how to get the best revenge on this parking issue.
"This makes me so mad and it has nothing to do with me," one wrote.
Some suggested attracting wildlife by leaving bits of food around so that the critters would poo on the man's car.
"You don't even have to hang a bird feeder. Just throw peanuts around his car, the crows will come," one user said.
Another popular suggestion was to join in on the angle-parking trend and block the man's Volkswagen in.
"Work with the neighbours and get the whole row angle-parked. Blue beetle will be the only one that can't get out," one person suggested.
"Block them in. If they love that spot so much they can stay there," another replied.

More excited Reddit users suggested publicly shaming the culprit by writing around the car and reading something like "Look at me! I'm special!"
Other responses were more measured, attempting to de-escalate the situation.
"Get a business card from a towing company and leave it on the windshield … Wait and see if there is a change. It might actually work with no confrontation," one user wrote.
Another added: "That's a small enough car to get a couple guys to help you just pick it up and move it."
Some defended the errant parker, believing that romance drove the husband to park his car this way to save a spot for his beloved wife.
"Am I the only one that thinks this is actually kind of sweet of him?" one such user asked. "I get the frustration from others, but you got to respect that commitment and care for his partner."
"My best advice is to get over it and move on with your life," another person suggested.
What would you do?
This article was first published by the NZ Herald and is republished here with permission. 

Take your Radio, Podcasts and Music with you