This delicious boozy eggnog recipe is the perfect Christmas treat!
Publish Date

Thursday, 2 November 2023, 11:16AM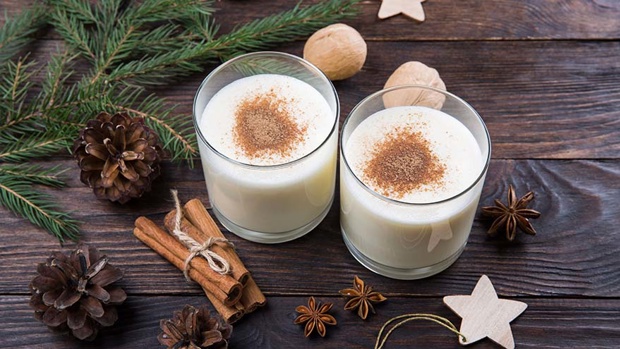 We're nearly well into the holiday season... and that means it's time for lots and lots of boozy, delicious, calorically-rich eggnog!
This recipe for boozy eggnog is so easy to make, you'll be wondering why you haven't tried it sooner. Plus, it will please the crowd at any holiday soirée.
Although traditionally a boozy Christmas cocktail, you can make this eggnog recipe without the alcohol and it will still be a deliciously creamy drink to enjoy over the festive season.
Serves: 8-10
Ingredients:
🎄 700ml whole milk
🎄 2 tsp vanilla extract
🎄 1½ tbsp ground ginger
🎄 1½ tsp ground nutmeg
🎄 1 tsp ground cinnamon
🎄 ¼ tsp ground cloves
🎄 5 egg yolks, plus 3 egg whites
🎄 230g caster sugar
🎄 4 tbsp white rum (optional)
🎄 2 shots of Kahlua (optional)
🎄 350ml double cream
🎄 Whole nutmeg and cinnamon, to serve
Method:
Add the milk, vanilla extract and ground spices to a large saucepan, stir together and place over a medium heat. Bring just to the boil then immediately turn off the heat and leave to infuse for 10 minutes.
Put the egg yolks and 200g of the caster sugar in a large bowl and whisk together until pale and thickened.
Pour in a little of the warm spiced milk and whisk well to temper the yolks. Continue to gradually add the milk, whisking continuously, until completely combined with the egg yolks.
Transfer the mixture to a clean saucepan and cook gently over a medium heat until the mixture just starts to thicken – be careful not to allow the mixture to boil as the eggs may curdle.
Remove from the heat and stir in the rum, Kahlua (if using) and double cream. Set aside to cool completely then chill until nearly ready to serve.
Just before serving, add the reserved 3 egg whites to a clean bowl and whisk to soft peaks. Add the remaining 30g caster sugar and continue whisking until the mixture is glossy. Gently fold through the chilled eggnog with a large metal spoon until fully combined.
To serve, pour or ladle into serving glasses and garnish with freshly grated nutmeg or a sprinkle of cinnamon.

Take your Radio, Podcasts and Music with you