This viral smashed potato recipe is a guaranteed crowd-pleaser!
Publish Date

Sunday, 20 November 2022, 10:30AM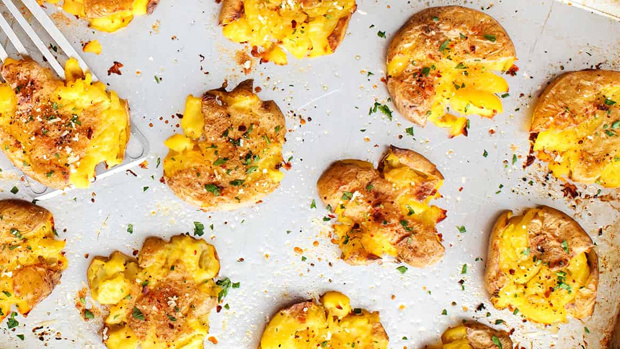 It is exactly five weeks to go till Christmas - and let's be honest, it's not the festive period without potatoes!
No matter how they're prepared, potatoes are always a guaranteed crowd-pleaser.
However, this smashed potato recipe by plant-based foodie, Carleigh Bodrug, has gone viral - and we can see why!
They make SUCH a tasty side dish or snack; crispy on the outside, fluffy in the middle, and packed with flavour.
Ingredients:
6 large potatoes
2 tsp kosher salt
½ tsp garlic powder
Cracked black pepper, optional, to taste
Olive oil, a drizzle to taste
Dressing:
¼ cup parsley
¼ cup corriander
½ avocado
3 cloves garlic
½ cup water
2 tbsp raw cashews
½ tsp sea salt
Method:
To make the potatoes:
In a large pot, add six cups of water and one teaspoon of salt. Add the potatoes, and bring to a boil. Reduce the heat, and allow the potatoes to cook for 20 to 30 minutes depending on the size of the potatoes, until fork tender.
Meanwhile, line a baking sheet with parchment paper, and preheat the oven to 200C.
Drain the water, and place the potatoes on the baking sheet dispersed at least 1 inch apart. Using a butter knife, make a soft slice about halfway through each potato. Then, using the bottom of a cup or a mug, smash each of the potatoes down.
Season with salt, garlic powder and pepper as desired. At this time, you can drizzle with olive oil if desired for a more crispy potato, but it's not necessary.
Place in the oven, and bake for 30 to 40 minutes until the potatoes are crispy.
To make the dressing:
Add all ingredients to a blender and combine until smooth.
Enjoy!
Take your Radio, Podcasts and Music with you