Air New Zealand invites Game of Thrones author George R. R. Martin to visit New Zealand in hilarious viral video
Publish Date

Wednesday, 22 May 2019, 12:07PM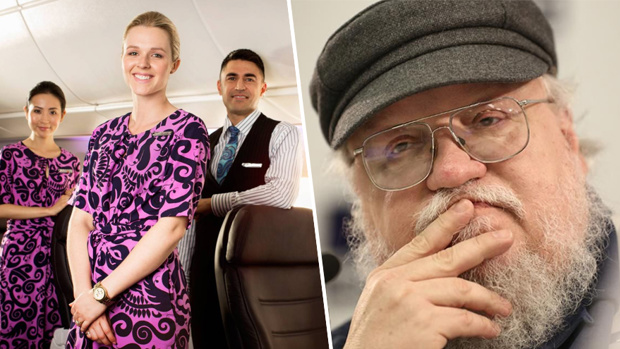 Air New Zealand has invited Game of Thrones author George R. R. Martin to New Zealand to finish off the remaining novels in the series.
Despite the television series based on Martin's books coming to its grand conclusion this week, Martin's original series, which began with A Game of Thrones in 1996, is still ongoing.
The fifth and most recent novel, A Dance with Dragons, was released in 2011, while two more books - The Winds of Winter and A Dream of Spring - are in the works.
The show surpassed the original novels at the end of season five.
Now, Air New Zealand has released a hilarious video inviting Martin to complete his series in New Zealand, calling our country a "fantasy writer's fantasy".
"We've noticed that between red carpets and talk show interviews, you're having a bit of trouble finishing your next book, The Winds of Winter," the video says.
"Fortunately, we've got the perfect solution... an epic trip to New Zealand, on us."
The video states that New Zealand is bursting with creativity, good wine, and space for Martin to relax and focus on the novel.
And it appears the video may have convinced Martin to get on with finishing his next book!
The star author wrote on his blog that he was planning a trip to Wellington in July next year, to attend the World Science Fiction Convention.
He said he plans to have the book finished before then because trying to write while in New Zealand would "distract me entirely too much".
He even said if he wasn't finished by then, we could take him prisoner until he penned every last word.
"If I don't have The Winds of Winter in hand when I arrive in New Zealand for worldcon, you have here my formal written permission to imprison me in a small cabin on White Island, overlooking that lake of sulfuric acid, until I'm done. Just so long as the acrid fumes do not screw up my old DOS word processor, I'll be fine," he wrote.
Martin has not detailed too much about the books but says they will have a different ending to the TV show.
That said, this only book six of seven and Martin says he hasn't even begun to write the final book, A Dream of Spring.
This article was first published on nzherald.co.nz and is republished here with permission.
Take your Radio, Podcasts and Music with you