Publish Date

Monday, 4 December 2017, 11:40AM
All you need is love! Sir Paul McCartney helped a concertgoer propose during a stadium show in Perth as 20,000 thrilled fans cheered him on.

He took to the stage in Perth on Saturday night for his first Australian show since 1993.
And Sir Paul McCartney didn't disappoint, belting out many of his most iconic hits as part of his One On One World Tour. 
However, it was something a little more spontaneous that stole the show, as the 75-year-old Beatles legend helped one of his concertgoers propose, much to the delight of the 20,000 strong crowd.
Towards the end of the show, Paul noticed a man in the crowd holding up a large placard which read 'Can I Propose To My Love On Stage?'

The Let It Be singer then ushered the man, named Martin, up onto the stage accompanied by his ladylove, a Japanese native by the name of Saya.
Not mucking around, Paul asked 'Are you going to do this thing? You got a ring?' before ordering Martin down on his knee to pop the question.
'We met ten years ago on a Contiki tour in England, and I thought at the end of the tour 'She listens to a lot of The Beatles'', Martin told the crowd, explaining why the concert was particularly sentimental to Saya. 
He then knelt before his stunning partner and stated: 'I know now that I have the world's biggest Beatles fan, and it would do me an honour, Saya, if you would take my hand in marriage. Will you marry me?'
The overwhelmed beauty accepted the proposal before the newly engaged couple shared a three-way hug with Sir Paul.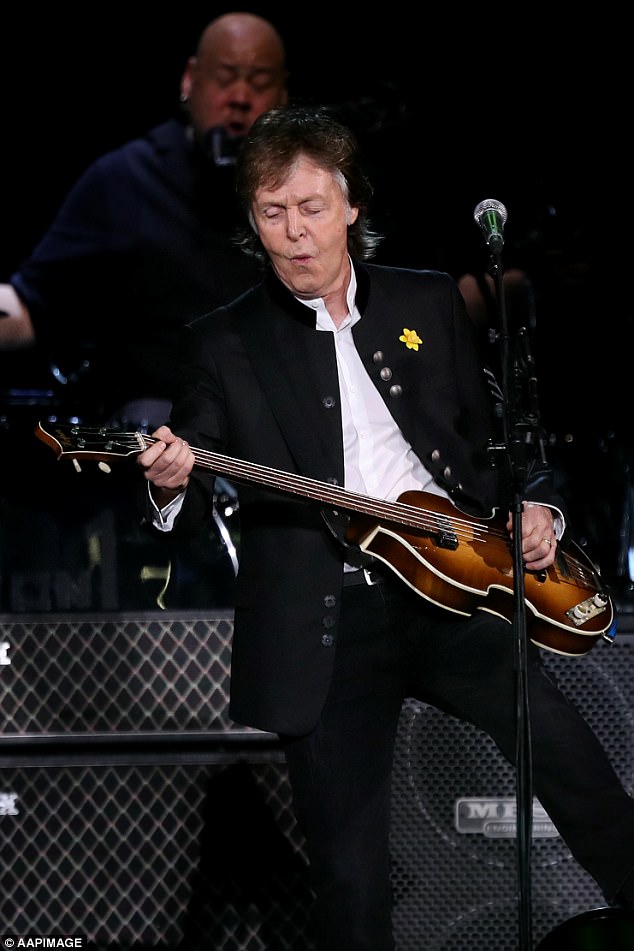 Photo/Daily Mail
The sold-out crowd was clearly feeling the love, cheering and clapping in delight.
And newly engaged Martin and Saya left with something to remember- with the Beatles icon signing a jacket for the twosome.
Sir Paul will perform five more shows in Australia in the coming weeks- with the next one scheduled to take place in Melbourne on Tuesday night.
No doubt many female fans will be hoping their boyfriends bring a bright coloured placard and an engagement ring along to the show.  
This article was first published at dailymail.co.uk and was republished here with permission.