Watch Bradley Walsh's hilarious attempts at pronouncing a very difficult Welsh name
Publish Date

Thursday, 14 June 2018, 4:34PM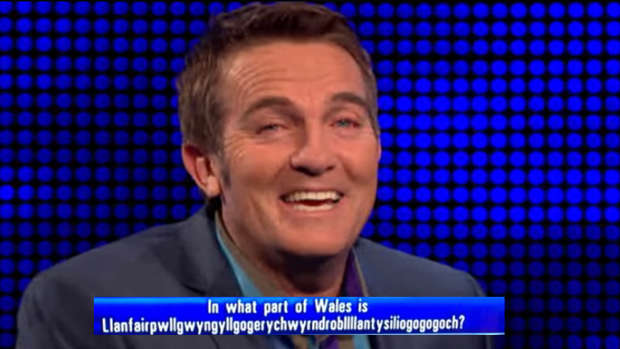 The Chase viewers were left in stitches - and very confused - at the pronunciation of the name of a Welsh village during last night's episode.
Bradley Walsh asked contestant Sarah where in Wales Llanfair­pwllgwyngyll­gogery­chwyrn­drobwll­llan­tysilio­gogo­goch was, with the correct answer being Angelsey.
But the host struggled to pronounce the name, leaving Mark Labbett and Sarah stifling their giggles.
One viewer called Bradley's attempt 'hilariously dismal' while another said he had 'butchered' the word. 
The village's official website advises to break down the name into several parts while trying to pronounce it.
The correct pronounciation is LLAN - FAIR - PWLL - GWYN - GYLL - GO - GER - YCH - WYRN - DROB - WLL - LLAN - TY - SILIO - GO - GO - GOCH.
However, the name didn't come easily to Bradley, who was asking the question as part of a repeated episode that aired on Monday night.
Bursting into laughter, he said: 'I had a good go. I'm so sorry.' 
The moment left viewers in stitches, with many taking to Twitter to mock Bradley's pronounciation.
One tweeted: 'Watching the chase and the chaser just completely BUTCHERED llanfairpwllgwyngyllgogerychwyrndrobwllllantysiliogogogoch, llanfair sweetie i am SO SORRY you had to hear that.'
Another posted: 'Pretty hilarious dismal pronunciation of Llanfairpwllgwyngyllgogerychwyrndrobwllllantysiliogogogoch on the chase.'
A third said: 'Still pmsl @ Bradley tryna say Llanfairpwllgwyngyllgogerychwyrndrobwllllantysiliogogogoch on The Chase y'day!'
Another wrote: 'Bradley Walsh was so funny trying to read llanfairpwllgwyngyllgogerychwyrndrobwllllantysiliogogogoch in The Chase!!!'  
This article was first published on dailymail.co.uk and is reproduced here with permission.