Watch the heartwarming moment this elderly man has his meal paid for by a kindhearted tradie
Publish Date

Thursday, 2 August 2018, 5:54PM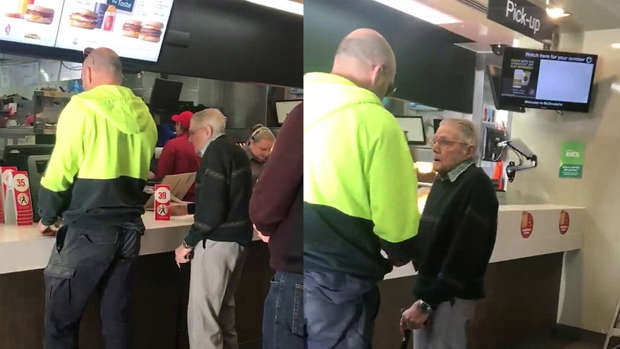 This is the heartwarming moment a selfless tradesman pays for an elderly pensioner's McDonalds meal as he struggles to count out his loose change at the counter. 
The footage - secretly filmed by his business partner in the queue and now with more than a million views on Facebook - shows the tradesman in hi vis handing over his card before the elderly gentleman says 'there's still some nice people here'.
Tradie Dave Love had offered to pay for the pensioner's meal alongside his own morning coffee, and as the pensioner puts his change back in his pocket the server jokingly comments: 'That's gonna weigh you down now!' 
READ MORE:
The pensioner thanks Dave profusely before moving away from the counter with his order number, but the tradie then slips a $20 note into his hand saying: 'That's for your next coffee'.
The elderly man initially resists but eventually, gratefully accepts the money saying 'thank you very much…you're a gentleman, thank you'.
Dave then comes back over to his partner, Melanie Langley, who had secretly filmed the whole exchange and asks what he was doing.
'I'm helping the old fella' out, he's down on his last 20 bucks,' Dave says to Melanie.
'He's standing there with a whole heap of change… he's a pensioner and he's old, so I paid for his meal and I gave him 20 dollars. It is what it is honey, it's life.'
Melanie posted the video online calling it an 'incredible act of kindness'.
'Your true character is revealed when nobody's watching,' she wrote. 'I told him I wasn't videoing as he would've made me turn it off.'
This article was first published on dailymail.co.uk and is reproduced here with permission.