Watch the hilarious moment Penny Lancaster confuses Rod Stewart's age with her dad's on live TV
Publish Date

Wednesday, 11 December 2019, 2:22PM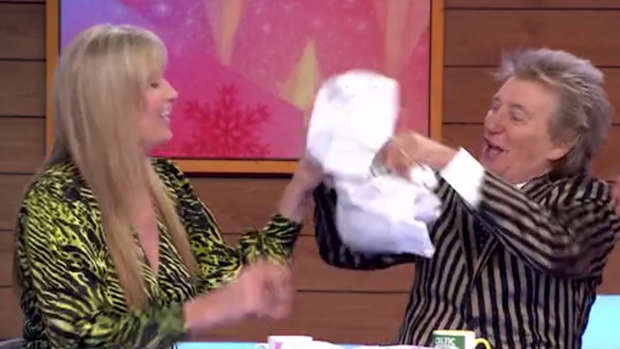 Yesterday, Sir Rod Stewart appeared on Loose Women alongside his wife Penny Lancaster to speak about his life as one of the world's most iconic singers.
However, the 48-year-old model was left red-faced when she accidentally got her husband's age wrong.
Penny tried to correct the British rocker after he said his age was 74.
She interrupted him to say: "Darling, you're 75. You're 76 in January."
Adamant he knew his correct age was 74, Rod suggested Penny Google his date of birth to confirm he was right.
She then dug herself into a deeper hole by admitting she had confused it with her dad's age.
READ MORE:
• Rod Stewart unveils incredible 124ft long model railway that he spent 26 years building
• Rod Stewart surprises couple at their Las Vegas wedding and serenades the bride
After checking Google by phone, she said: "Maybe I was talking about my dad because he's one year older.
"We all make mistakes darling, sorry."
The hilarious blunder came after the 'Maggie May' singer was ordered off the show when he walked on 30 minutes early.
Thinking he heard an announcement to make his grand appearance, he strode on to the set interrupting the panel which included his wife.
These two make us laugh!