Which Popular 1960's Kids TV Character Is Making A Comeback?
Publish Date

Wednesday, 14 October 2015, 9:08PM
H.R. Pufnstuf returns to television and he's bringing some 1960s pals.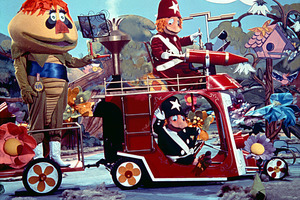 The title puppet character makes a comeback as part of Nickelodeon's new offering Mutt & Stuff.
Pufnstuf will be joined by Freddy the Flute, Cling and Clang and Rescue Racer on the episode scheduled to air early next year.
Mutt & Stuff shares family history with H.R. Pufnstuf from prolific children's TV producers Sid and Marty Krofft.
Nickelodeon's series for preschoolers, which debuted in July, features a mix of puppets and real puppies in a dog-school setting.
Calvin Millan,16-year-old son of The Dog Whisperer Cesar Millan of joins larger-than-life dog puppet Stuff to provide training tips on canine loyalty and love.
Mutt & Stuff is the Kroffts first childrens TV show since Land of the Lost from 1974 to 77.
Pufnstuf will play Stuff's uncle with Marty Krofft promising Pufnstuf will be the same life-sized, cowboy-boot-wearing puppet 1960s viewers will remember.
"We don't mess with our characters," he said.
Pufnstuf is voiced by comedian, actor and activist Randy Credico, replacing original Lennie Weinrib.
There are just 17 episodes of H.R. Pufnstuff created for its original 1969-71 run on NBC.
The show proved so indelible that a 2007 TV Guide poll of all-time cult favorites saw it ranked No. 27, between Mary Hartman, Mary Hartman and Stargate SG-1.
Some trace its enduring popularity to the notion that the show had a recreational drug aura about it.
Krofft flatly rejects the suggestion.
"If we did the drugs everybody thought we did, we'd be dead today," he said. "You cannot work stoned."
He suggests it was the show's surreal and brightly colored look, in an era marked by hallucinogenic imagery, that prompted such speculation.
Another idea, that the initials H.R. signified a marijuana joint were also misguided, according to Krofft: They stood for Royal Highness, backward.
The Kroffts have big plans for Pufnstuf and crowd, with possible vehicles including a feature film and their own new TV series.
Mutt & Stuff ratings success has prompted Nickelodeon to double its season-one order to 40 episodes. Pufnstuf may also return in future episodes.
"To make another hit at this time in our lives, I've got to give ourselves a pat on the back," Krofft said.
The video above is the original introduction.