Stephanie Jones Book Review - The Girl Who Takes an Eye for an Eye
Publish Date

Wednesday, 13 September 2017, 8:50AM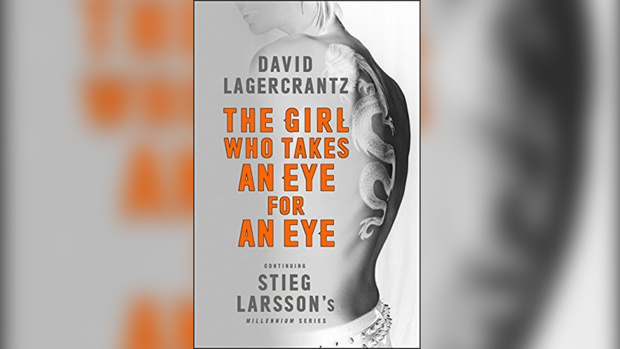 Author

By Stephanie Jones
The girl with the dragon tattoo meets the woman with the birthmark on her throat in The Girl Who Takes an Eye for an Eye, the fifth installment in Stieg Larsson's Millennium series and David Lagercrantz's second contribution (after 2015's The Girl in the Spider's Web) since he assumed the legacy of his late Swedish compatriot.
This brisk thriller opens in the grim environs of Sweden's only maximum-security women's prison, where Lisbeth Salander is serving a brief term for her involvement in a violent episode in which she saved the life of an eight-year-old-boy. The prison's officials are cowering under the brute fist of Benito Andersson, an ultra-homicidal gang leader who threatens their children and takes her nickname from the Italian dictator.
One of the most anticipated elements of any new Salander story is seeing what inventive ploys she will use to unman the reprehensible people who cross her path. Larsson imagined her as an antisocial force of nature whose enemies are powerless in the face of her rare physical and intellectual abilities; in Lagercrantz's hands she is something close to superhuman, more than once emerging victorious – but still inscrutable – from skirmishes that leave her opponents bewildered, vanquished before they even knew they were in a fight.
The plot is true to Larsson's vision in setting the investigative journalist Mikael Blomkvist on a Salander-directed course which leads back to her childhood, when she and her estranged sister Camilla were included in a government-sponsored study of twins, the Registry for the Study of Genetics and Social Environment. The backstory of the programme is as eugenicist and ethically bankrupt as its name suggests, with all the sinister racial-biology theorising that underpinned the Tuskegee Experiment.
Lagercrantz puts a high gloss on Sweden's criminal underbelly, though even the worst of the worst, the dagger-wielding Benito, doesn't seem all that heinous by supermax standards. And the ringleaders of the child psychology experiment, while utterly without conscience, are flimsily drawn; they pale next to the most depraved members of Larsson's Vanger clan.
Furthermore, the novel's focus blurs when it comes to a somewhat jumbled subplot involving another prison inmate, Faria Kazi, the daughter of a strict Muslim family whose clandestine relationship with a young liberal Muslim led to her incarceration for killing her brother. Then there is the case of musical virtuoso twins who are raised apart and stage a creative rebellion when they learn of each other's existence as adults.
Lagercrantz has set himself a high bar in covering familiar territory – the new adventures of Salander and Blomkvist, along with further events in the life of Salander's trusted former guardian, Holger Palmgren – and introducing several new, complex narrative strands, and not every ball remains aloft. A particularly odd choice, though one consistent with the hacker theme established by Larsson, is a final-chapter coda positing that organised internet trolls have used rumour to crash the global financial system.
Perhap's it's unfair to keep harking back to the series' originator and holding its new steward to that standard – after all, Larsson was hardly a perfect writer. But Lagercrantz has done what's most important by preserving the cloud of conspiracy and paranoia that has beset and infiltrated the Millennium world from the moment readers first entered.
To get in the draw to win one of five copies of The Girl Who Takes an Eye for an Eye click here.
Every week Stephanie reviews the Book of the Week.
As the Coast book reviewer, Stephanie Jones shares her thoughts each week on the latest releases.
Stephanie has a BA (Hons) in history and English literature, and a background in journalism, magazine publishing, public relations and corporate and consumer communications.
Stephanie is a contributor to the New Zealand Book Council's 'Talking Books' podcast series (listen here), and a member of the 2016 Ngaio Marsh Award judging panel. She can be found on Twitter @ParsingThePage.

Take your Radio, Podcasts and Music with you