Allyson Gofton - Courgette Fritters With Wasabi Mayonnaise
Publish Date

Friday, 17 February 2017, 2:10PM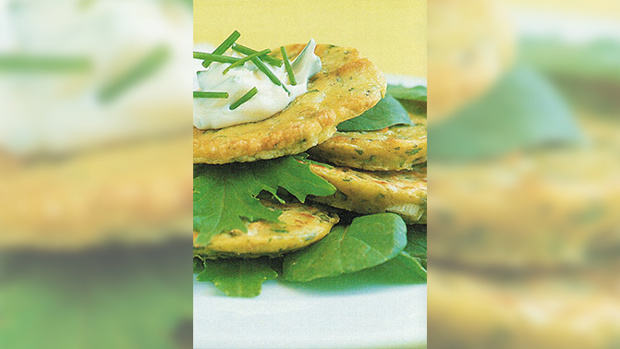 Author

By Allyson Gofton
Courgettes are in abundance at this time of the year. In backyard gardens they quickly go from courgette to marrow in days and keeping on top of the harvest can be tough. My children like them simply cooked in butter, which is easy but rather monotonous.  Courgettes have a high water content and will not tolerate freezing, so they need to be cooked up.
Here's 10 easy ways to use them up:
Grate and add to well-flavoured burger mixture
Slice thinly and use in place of lasagne sheets
Use a mix of grated courgettes and carrots in a carrot cake
Grate and add to a cheesy scone dough
Make a ratatouille and freeze down or bottle for use in winter
Slice thinly and cook in butter and garlic and toss through pasta with loads fresh basil and pine-nuts
Cut into thicker slices and top on mozzarella loaded pizza with chillies
Cook with minted peas and puree into a soup
Make into fritters and serve with wasabi
Slice in half lengthwise an season well with pepper and olive oil. Wrap in prosciutto, layer in a dish to bake. Serve cool, dressed with a sweet honey vinaigrette.
Courgettes love mint, basil, parsley, thyme, fennel, garlic and lemon.
Courgette Fritters With Wasabi Mayonnaise
Ingredients
1½ cups self raising flour
1 tsp salt
3 eggs, beaten
¾ cup very cold water
2 tbsp fresh lemon grass, finely chopped
3 spring onions, finely sliced
4 courgettes, trimmed and grated
2 tblsp coriander, freshly chopped
1 tblsp mint, freshly chopped
oil to pan fry
Wasabi Mayonnaise
½ cup good mayonnaise
½ tsp wasabi paste
1½ tblsp chopped chives
Method
Sift the flour and salt into a bowl and then beat in the eggs and cold water to form a thick batter.
Stir in lemon grass, spring onions, courgettes, coriander and mint.
Heat a little oil in a fry pan and drop 3-4 large spoonfuls of mixture into the hot pan. Cook the fritters over medium heat, turning to cook the other side when bubbles appear on the top.
Serve with Wasabi Mayonnaise and baby salad leaves.
Wasabi Mayonnaise
Mix all ingredients together.
Take your Radio, Podcasts and Music with you