Allyson Gofton - Strawberry and Coconut Tart
Publish Date

Thursday, 24 November 2016, 12:55PM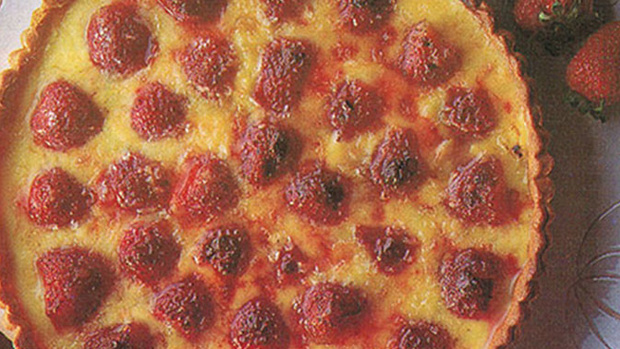 Strawberries are unique - technically they are a 'false' fruit as the seeds, which are on the outside are the actual fruit and the sweet fleshy berry is an enlarged receptacle. (Think if the white core left on the raspberry plant when you pick raspberries)

They are the world's most popular berry and an international culinary harbinger of spring. Their name is likely to have originated from one of two reasons- in the past strawberries were grown on bed of straw to prevent the berries being damaged OR the name is as a result of the Tudor for straw was 'stray' an expression that covered off the straggly nature of the strawberry plant of the time.

Strawberries need little adornment, though like so many things different countries have a preferred way of eating the berry. The UK likes cream and strawberries, most Europeans prefer sour or cultured creams though in Italy they like strawberries with red wine and a little sugar (also liked in Elizabethan times).In more recent times balsamic vinegar and / or grindings of black pepper have become de rigueur, so sweet, sour 'n' spicy.

Although strawberries will grow in most parts of the country the Auckland region produces 40% of the our commercial crop. The most commonly grown commercial type of strawberry available here is the Pajaro though other varieties with wonderful flavour to grow include Sundae and Baby Pink. Strawberries will not continue to ripen when after picking, they only deteriorate.

When you get strawberries home the best way to keep them is to unpack the fruit, spread them out on kitchen towel, cover with plastic wrap and refrigerate. This will prevent them bruising under their own weight in the package. 
Strawberry coconut brulee tart
This tart makes a wonderful summer dessert, strawberries coated in a coconut cream make a great tart filling.
Ingredients
2 sheets of pre-rolled sweet short pastry
1 punnet strawberries
¼ cup caster sugar
Coconut custard
1 cup milk
1 cup coconut milk
2 egg yolks
2 tablespoons cornflour
2 tablespoons sugar
Method
Cut the pastry sheets to line the base and sides of a 23cm loose-bottomed flan tin. Bake blind at 200ºC for 10 minutes. Remove the beans and cook a further 5 minutes. Cool.
Hull the strawberries and arrange in the flan.
Coconut custard
Bring the milk and coconut milk to the boil.
Beat the egg yolks, cornflour and sugar together and pour into the milk. Stir over a moderate heat until thick. Don't boil. Cool.
Pour the coconut custard over the strawberries. Sprinkle with caster sugar.
Cover the pastry edges with foil and grill under a high heat until the sugar has browned and caramelised.
Cooks Tips
- Don't let the strawberries and custard stay in contact for too long before grilling - the strawberries will break the custard down and it won't set.
Take your Radio, Podcasts and Music with you