Adele bursts into tears mid-concert by surprise reunion with beloved teacher who "change her life"
Publish Date

Tuesday, 23 November 2021, 11:27AM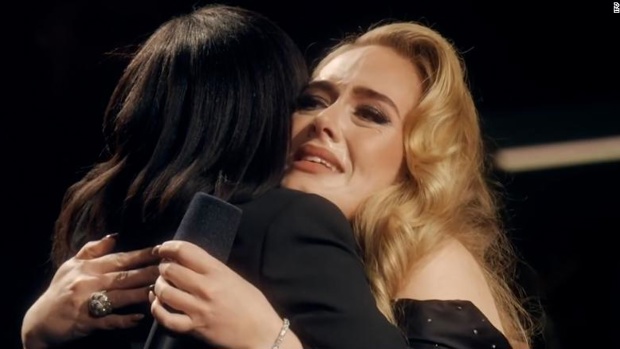 Adele is known for moving fans to tears with her music, but little did she know she would be shedding some of her own after a surprise reunion with a former high school teacher.
The emotional moment happened during her ITV concert special, An Audience with Adele, when the legendary Emma Thompson asked if there was anyone in Adele's past who'd supported her, inspired her or protected her from life's trials and tribulations.
Adele immediately identified her Chestnut Grove Academy English teacher, Miss McDonald, whom she hadn't seen since she was 12.
The pop star credited McDonald for sparking her interest in literature, which is present today through her songwriting.
The 33-year-old said: "I had a teacher at Chestnut Grove, who taught me English. That was Miss McDonald. She got me really into English literature. Like, I've always been obsessed with English and obviously now I write lyrics."
"She was so bloody cool. So engaging," Adele added, recalling that McDonald often wore sequins and gold bracelets. "She really made us care, and we knew that she cared about us."
Thompson then revealed the beloved teacher was sitting in the audience, which prompted a shocked Adele to burst into tears and welcome her to the stage.
"I'm so proud of you," McDonald said as the pair embraced.
"I didn't know that you were coming," Adele said as she cried tears of joy.
"That's okay. It was supposed to be a surprise," McDonald responded. "Thank you for remembering me."
"You really did change my life," Adele replied. "Now, I've got to get my whole face re-done," she joked while wiping away tears.
She then briefly left the stage to touch up her makeup, calling on comedian Alan Carr to entertain the audience with a rendition of 'Make You Feel My Love.'
After the special aired, the British singer-songwriter took to social media to share her excitement at the reunion.
"Home Sweet Home. I've always dreamt of doing An Audience With… There was so much love in the room for each other, it felt like such a gig! Everyone was raucous and bang up for it! And my teacher Ms McDonald was there, it was just heaven ♥️," she captioned the post, which featured a series of photos from the star-studded event.
An Audience With Adele was filmed at the London Palladium earlier this month.
Take your Radio, Podcasts and Music with you