Bindi Irwin shares touching video tribute to her dad Steve on the 13th anniversary of his passing
Publish Date

Wednesday, 4 September 2019, 2:07PM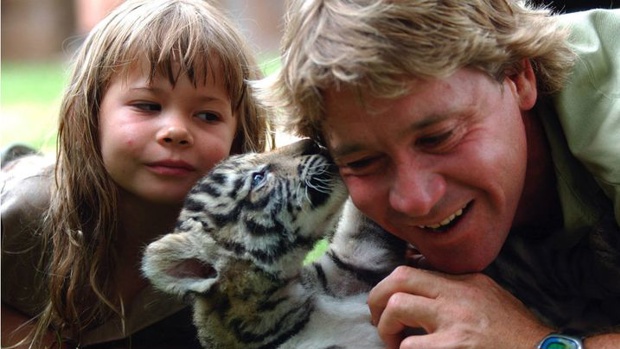 Today marks 13 years since beloved Australian wildlife expert Steve Irwin passed away.
To mark the emotional occasion Steve's daughter Bindi Irwin has taken to social media with a heartfelt video filled with "wonderful" family moments in honour of her late dad.
The video features a montage of footage of Steve and Bindi's mother Terri playing with her as a child and introducing her to the world of animals.
"Look at my baby," Steve says at the start of the touching clip while holding Bindi as a baby.
The former Dancing With the Stars champion can also be seen giggling as her father - who was also known as The Crocodile Hunter - pretends to wrestle a stuffed snake and croc.
"Reflecting on these wonderful moments. Hug the people in your life who bring light to your heart and always remember that love lasts forever," the conservationist wrote alongside the clip.
READ MORE:
• Bindi Irwin has just revealed who she wants to walk her down the aisle and her choice is very sweet!
• Bindi Irwin stuns in never-before-seen throwback video of her 'Dancing With The Stars' rehearsals
It's 13 years since Steve died on September 4, 2006, after being struck by a deadly stingray barb while filming for one of his many TV shows off Port Douglas in North Queensland, and left a family, a nation, and the world in shock.
Bindi and her brother, Robert, who were just eight and two years old respectively when their famous father died, have worked tirelessly alongside Terri to honour their father's wildlife warrior legacy.
Although it's been over a decade since her father's death, the 21-year-old bride-to-be - who is planning on tying the knot sometime next year - still gets emotional about her family's loss.
In a recent interview with Stellar magazine, Bindi opened up about her grief, admitting she began crying over old footage of her dad — even though she'd already seen the clip many, many times.
"It was just an ordinary day and we were playing the video where we petition against the harvesting of crocodile eggs," she said. "There's old footage of dad with the crocodiles and, even though I've seen the video maybe 50 times, that day I started crying."
She added: "Some days you feel the grief more than others. What gets to me are those moments when I'd love him to be here to share what we're doing."
"It could be when my brother is receiving an accolade for his photography, or it might be at the end of the day when we're having dinner and laughing. I'll think: 'I wish Dad was here for this.' But he's just not there."
Take your Radio, Podcasts and Music with you