Emma Thompson opens up about the real heartbreak behind her iconic Love Actually scene
Publish Date

Monday, 23 December 2019, 2:24PM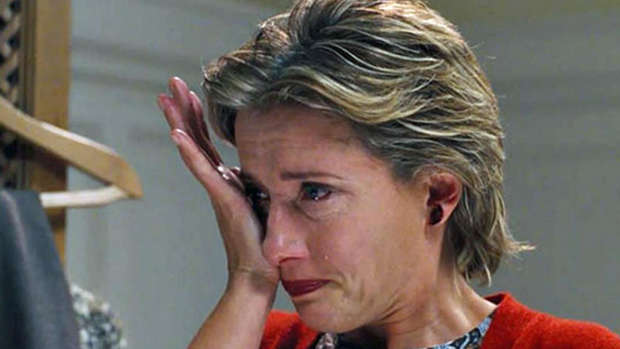 It is easily one of the most powerful movie scenes of all time.
You know the one we're talking about ...
The moment when Karen, played by Emma Thompson, sobs uncontrollably after she discovers that her husband has bought jewellery for another woman and realises he is cheating on her.
Well, it turns out Thompson was so convincing in the 2003 film, Love Actually, because of her own personal experience – having her heart "very badly broken" by first husband Kenneth Branagh.
Once the golden couple of British cinema, dubbed Ken and Em, they split after eight years together when he began an affair with Helena Bonham Carter.
"That scene where my character is standing by the bed crying is so well known because it's something everyone's been through," she said.
"I had my heart very badly broken by Ken. So I knew what it was like to find the necklace that wasn't meant for me.
"Well it wasn't exactly that, but we've all been through it."
Thompson and Branagh, now 58, fell in love when they starred as newlyweds in the BBC drama Fortunes of War in 1987.
They married two years later and appeared together in films including Peter's Friends, Dead Again and Much Ado About Nothing.
READ MORE:
• Want to watch the Love Actually sequel this Christmas? We've got it right here for you!
• Hugh Grant hits out at Boris Johnson's 'Love Actually' election campaign spoof
Branagh and Bonham Carter, who is seven years younger than Thompson, are said to have started an affair in 1994 while filming Mary Shelley's Frankenstein.
The following year, Thompson and Branagh filed for divorce, claiming hectic work schedules had led to the breakdown of the relationship. Branagh and Bonham Carter dated until 1999.
Thompson married actor Greg Wise, with whom she has two children, in 2003.
Kenneth Branagh and Emma Thompson at their wedding in 1989 in London, England.
In 2013, Thompson revealed that she had "made peace" with Bonham Carter.
Discussing Branagh's infidelity, she told The Sunday Times: "I've had so much bloody practise at crying in a bedroom, then having to go out and be cheerful, gathering up the pieces of my heart and putting them in a drawer."
"That is ... all blood under the bridge. You can't hold on to anything like that. I just think ... pfft."
"It's pointless. I haven't got the energy for it.. Helena and I made our peace years and years ago ... she's a wonderful woman."