England's cricket hero Ben Stokes says he'll be apologising to Kane Williamson "for the rest of my life"
Publish Date

Monday, 15 July 2019, 10:32AM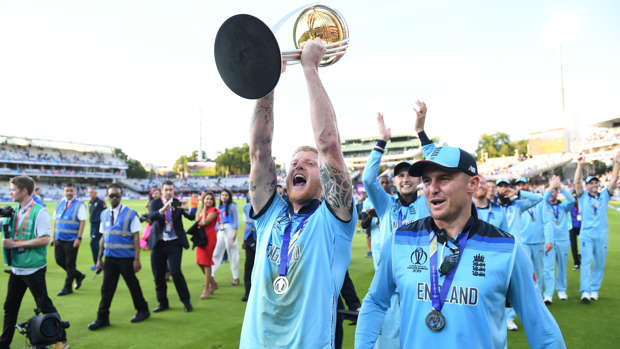 England's Cricket World Cup hero Ben Stokes says he will be apologising to Black Caps skipper Kane Williamson for the rest of his life after accidentally creating arguably the most pivotal moment in ODI history.
With England needing nine off the final three balls of the final at Lord's, Christchurch-born Stokes was running back for a second run when a throw from Martin Guptill hit his bat and deflected to the boundary for four.
It meant six was recorded off the ball instead of two and Stokes eventually got two singles of the final two balls to force a tie and a Super Over.
Stokes made 84 not out before returning for England in the Super Over. With Trent Boult bowling, Stokes and Joss Buttler scored 15 runs to set New Zealand 16 to win the World Cup.
Jimmy Neesham and Guptill could only manage 15 with England crowned champions due to hitting more boundaries in the 50-over affair.
After the match, Stokes said it was 'written in the stars'.
"I am pretty lost for words. All the hard work to get here and be world champions, it's an amazing feeling. Playing against New Zealand is always a good event, they are good lads. I will be apologising to Kane for the rest of my life [re: the overthrow for the six]…It was written in the stars to happen for us," he said.
Black Caps captain Kane Williamson, who was named player of the tournament said that maybe luck was against his side at Lord's.
"That [Stokes's accidental boundary] was a little bit of a shame, wasn't it? You just hope it doesn't happen at moments like that. Perhaps it wasn't meant to be for us."
A recap of the game
New Zealand made 241 for eight
England was all out for 241
The match was tied, which meant the game went to a super over
England scored 15 in the super over
New Zealand scored 15 in their super over, which meant England won on a technicality
That technicality, specifically, was that they hit more boundaries than New Zealand England have won the World Cup
This article was first published on nzherald.co.nz and is republished here with permission.