Gemma McCaw stands up against critics over taking her children for a walk in the rain
Publish Date

Monday, 22 May 2023, 11:12AM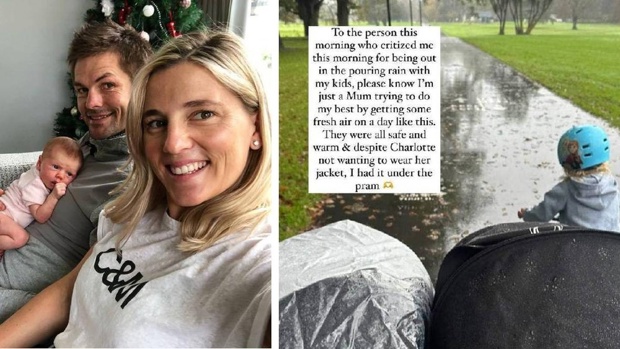 Olympian and mum-of-three Gemma McCaw has hit back at criticism she faced for taking a walk with her kids on a rainy day.
McCaw took to Instagram on Saturday, sharing an image of her young children - Charlotte, three, Grace, two, and Ella, seven weeks - in the park during inclement Canterbury weather, saying she was rebuked for taking them out in the rain.

The Black Sticks player posted to Instagram in response: "To the person this morning who criticised me this morning for being out in the pouring rain with my kids, please know I am just a Mum trying to do my best by getting some fresh air on a day like this [sic]."
McCaw said that the comment hurt, notwithstanding the constant support she receives from other parents.
"They were all safe and warm and despite Charlotte not wanting to wear her jacket, it was with me under the pram," says McCaw.
McCaw then posted a second story, with a message to her supporters after being flooded with positive messages.
"Thank you for all your beautiful kind messages – I don't know why this comment hurt more today. Maybe it's the sleep [deprivation], the Gastro bug earlier this week, juggling three kids under five and getting out the door on my own (sometimes when it rains, it pours), but a huge thank you to all those people who constantly support mums," McCaw wrote.
"Never underestimate a kind word or gesture. (which I also got today. Isn't funny how we always focus on the negative?) [sic]."
Fresh air and rain is "good for the soul", McCaw wrote, and she would "always choose" to take her children outside into nature.
"To anyone else out there doing and giving your best, I see you, and what I've learnt today is don't let anyone rain on your parade."
Gemma and her husband Richie welcomed their third daughter, Ella, in April this year.
This article was first published in the NZ Herald and is republished here with permission.

Take your Radio, Podcasts and Music with you