Going to Elton John in Auckland? Here's everything you need to know!
Publish Date

Friday, 14 February 2020, 2:07PM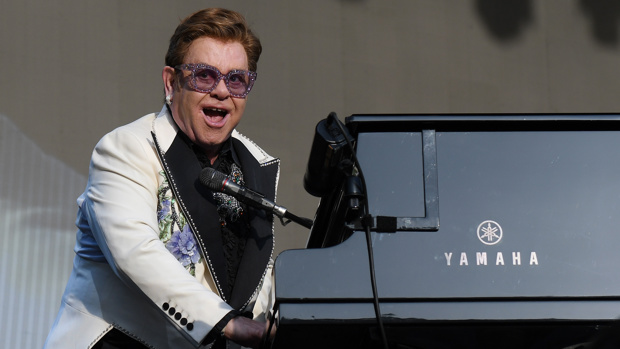 The day has finally arrived!
The legendary Elton John has made his return to our shores, continuing his tour with his final three shows at Auckland's Mt Smart Stadium tonight, Tuesday 18 February and Thursday 20 February.
Are you lucky enough to be heading along to the concert?
Here's everything you need to know ...
STADIUM INFORMATION
Gates will open at 5pm. 
You can bring into the stadium:
Small personal cameras and camera phones are allowed.
Empty plastic bottle without lid (up to 750ml) to be used at the free water stations.
Sealed bottle of water (up to 750ml) - please note lid will be discarded on entry to the stadium.
Signs no larger than (A3) 400mm x 300mm (16"x12") with sticks and poles detached before entering the stadium.
Small quantities of home-prepared food.
These items are NOT permitted:
Bags larger than (A3) 400mm x 300mm (16"x12").
Video cameras and recording device (this does not include mobile phones).
Professional cameras or any photographic devices with a lens larger than a standard watch face (not exceeding 4cm in diameter) and/or a removable lens.
Prams and strollers.
Selfie sticks, Go Pros, Drones.
Banners with poles.
iPads or Tablets.
Cans or glass of any kind.
Strictly NO alcohol or illicit drugs.
Branded or commercial food and drinks, including takeaways.
Metal utensils and containers, cutlery, etc.
Chilly bins / Coolers.
Dangerous goods including fireworks, flares, lasers or flashlights, knives, tasers, mace, chains, spurs or studded jewellery.
Offensive weapons including, but not limited to, any object that may be used as a projectile such as glow sticks, balls, containers, etc.
Air horns and loud hailers.
Umbrellas or other sun/rain shelters.
Furniture chairs or stools.
Skateboards, rollerblades, bicycles or scooters.
There will be searches of your accompanying bags on arrival at the venue. Intoxication assessments will be carried out on arrival and inside the venue.
GETTING THERE
Delays are expected this week as thousands of fans travel to the stadium.
Auckland Transport is warning people to aim to arrive early, as public transport will be extremely busy.
Concert goers on Tuesday and Thursday night, in particular, will be travelling during peak afternoon traffic, meaning the journey will take longer than usual to get to the stadium area.
READ MORE:
• This 1991 video of Rowan Atkinson hilariously interviewing Elton John has gone viral
• Elton John reveals the savage way Rod Stewart used to dump his lovers
Travel on trains, special event buses and Northern Express buses is free with concert tickets. These run to and from the city from 4:30pm. Details are available at https://at.govt.nz/.
If you're being dropped off or picked up, the best meeting points are Church St, west of the Maurice Rd intersection.
Road closures and parking restrictions will also be in place near the stadium as follows:
Road Closures:
5am - 1am (the following morning):
Beasley Ave
4:30pm - 1am (the following morning):
Maurice Road
Rockridge Ave
O'rorke Road
Olive Road
Fairfax Ave
Station Road (Rockfield Rd to Walls Rd)
Parking Restrictions:
5am - 1am (the following morning):
Beasley Ave
4pm - 1am (the following morning):
Rockridge Ave
Autumn Place
Station Road
O'Rorke Road
Maurice Road
Please note: all usual parking restrictions (broken yellow lines) will remain in place on show days.
Parking
There are no general parking facilities onsite for concerts. We strongly encourage patrons to use the free travel on special event bus and train services to get to and from the concert.
If public transport is not an option, parking is usually available for a fee at businesses surrounding the stadium.
Please be aware that if you park on a street or in a business that is subject to a later road closure or parking restrictions you may be towed or delayed from exiting.
Signage will be erected on the applicable streets and information on these restrictions will be available on our website closer to the event.
Mobility parking
Onsite mobility parking is strictly available for patrons who hold a current mobility parking permit.
To register for mobility parking please send your valid mobility permit number to [email protected] You will need to present your mobility permit to traffic control staff for access - no exceptions.
Mobility parking is limited and will operate on a first-in, first-serve basis.
APPROXIMATE SET TIMES:
5:00 PM - Gates open
6:00 PM - Tate Sheridan
7:30 PM - Elton John
TICKETS:
Only tickets purchased via the respective approved ticketing agent (Ticketmaster) are valid for entry to the show.
Tickets purchased via onseller sites such as Viagogo, The Ticket Merchant, Ticketblaster, Queen of Tickets, E-Bay or Gumtree are not guaranteed to gain entry into the event.
Your bay, row and seat number can be found on your ticket. Please only enter via the gate specified on your ticket. Row A starts closest to the field.
Ticket Collection:
Tickets can be collected from Gate B on the event day from 9.00am.
Gate Sales:
Unless sold out prior, gate sales will be available from the Box Office at Gate B from 9.00am on event day.
Age Restrictions and Guidelines
Also, be aware that everyone needs their own valid ticket - including infants and children.
CHECK OUT ELTON'S FULL SETLIST HERE!
Take your Radio, Podcasts and Music with you