Kate Middleton makes unannounced visit to memorial to pay respects to Sarah Everard
Publish Date

Monday, 15 March 2021, 6:08PM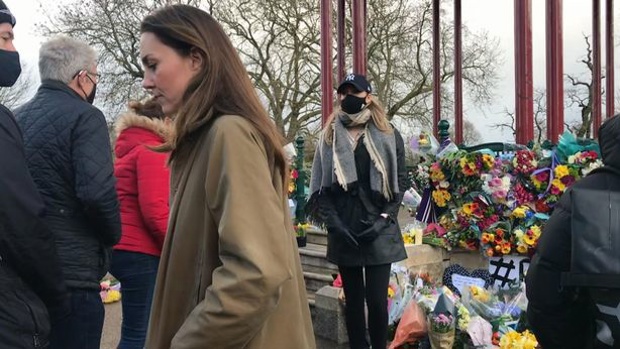 Kate Middleton has joined thousands of mourners laying flowers for Sarah Everard in Clapham Common, in London.
Carrying a bouquet of daffodils picked from her own garden at Kensington Palace, the Duchess of Cambridge made an unannounced visit to a memorial for the 33-year-old woman who went missing while walking home on March 3 and was later found dead.
The royal mum-of-three, who visited alone and without any obvious security, blended in with members of the public as she took a few moments of silence at the memorial and read through the cards left by others paying tribute to Everard.
Kensington Palace said the Duchess "decided to make a private visit after being horrified by Sarah's tragic murder" as she "remembers what it was like to walk alone as a young woman in London."
READ MORE:
• Kate Middleton releases a fifth previously unseen photo of Princess Charlotte for her birthday
• Prince George, Princess Charlotte and Prince Louis share sweet "thank you" video to medical workers
Before marrying Prince William, Kate shared an apartment with her sister in Chelsea, just over two miles from the site Sarah was last seen before her disappearance.
Mourners said the Duchess looked "a bit upset" and "quite emotional" as she took time to stand in mourning for the murdered woman.
"We were just walking towards the bandstand and she was coming around the corner away from it. She looked a bit upset. She looked quite emotional. She was just on her own," Rhiannon Pithers told the Daily Telegraph.
A serving Metropolitan Police officer is currently in custody charged with Sarah's murder.