Kensington Palace reveal a 'very aggressive' strategy to deal with Thomas Markle
Publish Date

Wednesday, 15 August 2018, 3:41PM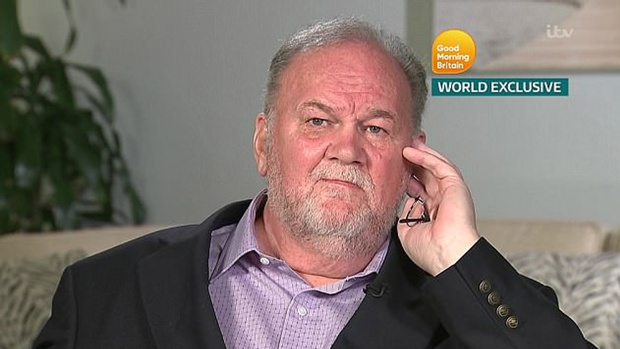 Palace aides are now considering a "more aggressive" strategy towards Thomas Markle following his latest public outbursts, sources say.
Insiders have suggested Kensington Palace is "re-evaluating its options" when it comes to stopping the stream of comments made by Meghan's father.
According to the Daily Mail, it comes after Mr Markle, 74, admitted he may never see his daughter again after a series of explosive interviews since the royal wedding.
Meghan, 37, is said to be "hurt" by her father's actions, and is not believed to have spoken to him since her wedding in May.
A source told Entertainment Tonight the Palace is considering its options when it comes to both Mr Markle and Meghan's half-sister Samantha, who is set to appear in the new series of Celebrity Big Brother.
The insider said: "The Palace, who normally takes a firm policy of not commenting on personal matters, is now considering a more aggressive strategy to deal with the situation with both her father and her sister. No one wants to see this continue."
However, the source suggested the Palace is "less concerned" about Samantha "because she has never had a real relationship with Meghan".
It comes after Mr Markle revealed to the Mail on Sunday that he hung up on Prince Harry during a heated telephone call, after he was exposed for staging paparazzi photos.
He also confessed that he lied to the royal when he asked him if he had co-operated with a paparazzi photographer to pose for shots.
Meanwhile, in a separate interview with The Sun this week, Mr Markle, 74, said he did not expect to "see her or hear back from" his daughter, adding that he believes he's been "locked out" by the Palace.
Meghan's father announced days before the Windsor wedding that he had suffered a heart attack and would not be walking his daughter down the aisle.
READ MORE: 
It came after the revelation that he had worked with the paparazzi to stage photos which appeared to show him preparing for the wedding.
Since the May ceremony he said in an interview on Good Morning Britain that he had discussed politics with Harry, claiming the Prince was "open to Brexit".
He also revealed he has not spoken to his daughter since the wedding and that he feels he had been "cut off" as a punishment for staging the fake paparazzi pictures.
Mr Markle claimed in a recent newspaper interview that his daughter looked "terrified" in her new role and that she wore a "pained smile".
MailOnline has contacted Kensington Palace for comment.
This article was first published on dailymail.co.uk and is reproduced here with permission. 
Take your Radio, Podcasts and Music with you