'Octomum' Nadya Suleman shares rare new family video of her eight children together for their birthday
Publish Date

Thursday, 26 January 2023, 4:59PM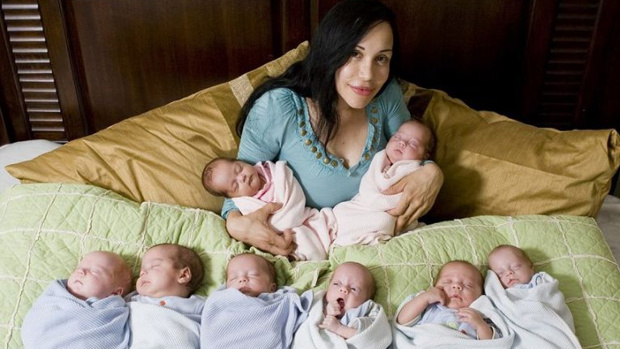 There's no doubt you'll remember Nadya Suleman, who made headlines around the world in 2009 when she gave birth to octuplets following IVF treatment.
But while the kids have grown up mostly out of the spotlight, their mum - who is best known as "Octomom" - recently gave fans a rare glimpse into their life in celebration of their 14 birthday.
In an exclusive video, Suleman proudly showed off her eight youngest children - Nariyah, Isaiah, Maliyah, Jeremiah, Noah, Josiah, Jonah and Makai - as they sang happy birthday before diving into some doughnuts in honour of their big day.
Behind them were gold Mylar balloons that spelt out 'BIRTHDAY.'
Ahead of the celebrations at home, the 47-year-old single mother took her kids out for a fun day of go-kart racing at K1 Speed in Orange County, California.
Suleman is also a mum to Ameerah, Calyssa, Elijah, Jonah, Joshua and Aidan who range in ages from 16 to 21. In total, she has 14 kids.
She brings up all 14 kids in a three-bedroom home in Orange Country.
Her unusual pregnancy made her a household name – but in recent years Suleman revealed she "never wanted the attention".
"I was doing it out of desperation and scarcity so I could provide for my family," she told The New York Times in 2018.
In order to make ends meet, the Suleman took on a variety of jobs, including a stint as a porn star that she later described as "foolish, immature and selfish."
Having as many as 14 kids was not intentional, she has also said in the past.
The reality TV star said she never intended to have that many and was "misled" by her doctor, Dr Michael Kamrava, who has since lost his medical license and moved out of the United States.
Take your Radio, Podcasts and Music with you