Robbie Williams reveals he was asked to join Queen before Adam Lambert
Publish Date

Thursday, 5 March 2020, 3:55PM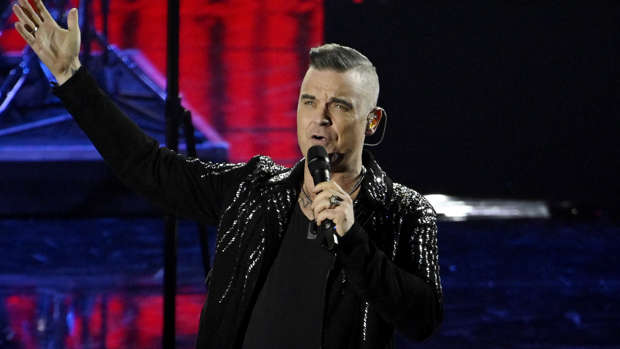 While Adam Lambert has been performing with legendary rock band Queen on their world tours since 2014, Robbie Williams has just revealed he was originally asked to join the band.
The 'Angels' hitmaker, who welcomed his fourth child with his wife Ayda Field on Valentine's Day, claims he refused the offer because he didn't feel he could properly fill the shoes of the late Freddie Mercury.
Opening up about the moment, which took place in 2001, the 46-year-old said: "Even though I'm very confident here on the microphone, I have suffered with incredibly low self-esteem.
"And I just thought I'd save them the audacity of me even trying to step on a stage and be the same echelon as Freddie Mercury.
"He, to me, is angelic. He's godlike. It was just too scary."
The band's offer came after the father-of-four joined forces with Queen to re-record 'We Are the Champions' for the soundtrack to A Knight's Tale. 
Speaking to SiriusXM, the 'Rock DJ' singer said: "It was absolutely amazing that I'm in the recording booth with Roger [Taylor] and Brian [May] ... And to be in the room with real history - proper history - felt absolutely incredible."
READ MORE:
• Rod Stewart and Robbie Williams have recorded a duet together for Rod's new orchestral album
• Robbie Williams and wife Ayda Field surprise fans after welcoming "secret" fourth child
But the pop singer said he doesn't regret declining the opportunity to front the classic rock band.
"Adam Lambert - if he wasn't such a lovely person, which he is - I would just be terrified of him because of his pure talent," Williams said.
"His voice is absolutely incredible. And he's an incredible performer, and a lovely person to boot. I'm really pleased when I meet people that I'm just overawed by their talent - he gives me a talent hard-on - and they're nice. It's much better than meeting people that give you a talent hard-on and they're a*******. You're just like, 'Oh, I hate everything you've done now."
Last month, Ayda announced the birth of Beau Benedict Enthoven via the same surrogate who carried their daughter Coco.
Robbie - who also has Teddy, seven, Charlie, five, and Coco, 14 months, with wife Ayda Field - admits fatherhood has changed him.
"Back in the 1990s, it used to be strippers and cocaine. Now it's hummus and celery – and my life is much better for it."