Rod Stewart's wins with his pothole-filling campaign as council promises him a new road
Publish Date

Monday, 15 August 2022, 3:56PM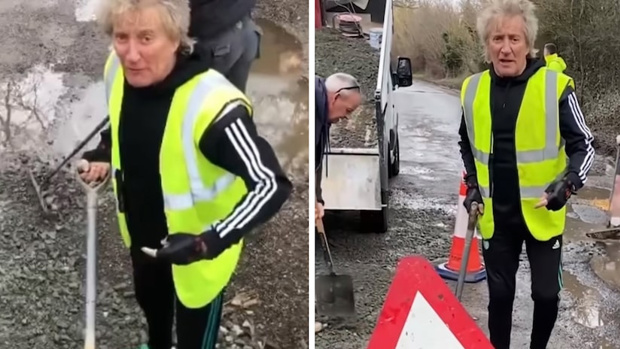 Earlier this year, Sir Rod Stewart received praise from around the world after he got down and dirty with a shovel and some gravel to fix potholes near his home.
However, authorities were less than impressed with the 'Maggie May' singer.
Donning his finest high-vis vest, the legendary rocker filmed himself shovelling grit from a lorry into a large number of potholes after an ambulance had a burst tyre and other cars were "bashing their cars up" due to the damaged road.
Speaking to the camera, he said: "I'm repairing the street where I live as no one can be bothered to do it."
The 'Forever Young' hitmaker then added: "This is the state of the road near where I live in Harlow and it's been like this for ages. People are bashing their cars up. The other day, there was an ambulance with a burst tyre. My Ferrari can't go through here at all.
"So me and the boys thought we would come and do it ourselves. We are filling the holes while millions and millions of pounds have been spent on the M11."
And his actions have now paid off!
After Essex County Council initially criticised the 77-year-old's actions claiming his repairs could be liable for future accidents, they've now agreed to relay the surface.
A source told The Sun: "It seems his publicity has finally shamed the council into fixing the road.
We imagine Sir Rod is absolutely chuffed!
Take your Radio, Podcasts and Music with you