The Chase's Paul Sinha reveals he suffered a 'breakdown' following his health diagnosis
Publish Date

Friday, 20 September 2019, 11:06AM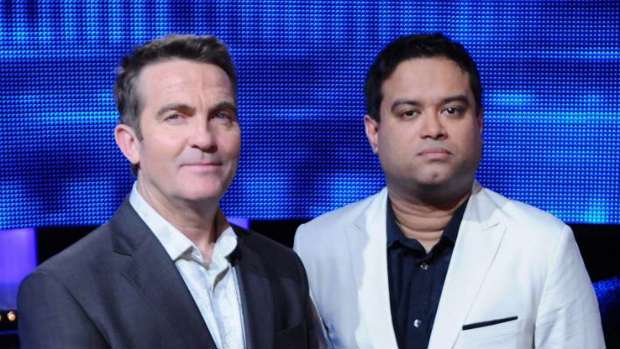 Paul "The Sinnerman" Sinha is a fan favourite on The Chase, he's known for his great quips and quick wit, but the much-loved Chaser recently revealed he's battling Parkinson's.
And now he's opened up about the "breakdown" he suffered shortly after being diagnosed with the condition - in which sufferers experience tremors and slowness of movement.
Speaking in a new interview with British publication iNews, the unstoppable quiz master spoke about his diagnosis for the first time, revealing he had been "suffering from a frozen shoulder" for more than a year before his condition was confirmed.
"I had been suffering from a frozen shoulder since September 2017. I'd seen a specialist who was convinced he could cure it, but nothing seemed to work," he says.
At the same time, he also had a limp that seemed to be getting worse.
"The next day in a cab I decided to Google the words 'frozen shoulder' and 'Parkinson's'. And I knew I had Parkinson's."
The Chaser, who is also a qualified GP and stand-up comedian, had his condition confirmed by a doctor two weeks before he went public with having the disease.
"Looking back to those two weeks after the diagnosis I think I had a breakdown."
READ MORE:
• The Chase host Bradley Walsh was left in hysterics again over cheeky question
• The Chase's Mark 'The Beast' Labbett reveals the health issue behind his dramatic weight loss
"When it went out after the diagnosis I could see people were Googling things such as 'Paul Sinha stroke' and 'Paul Sinha neurological disorder'."
Paul went on to cancel his shows at the Edinburgh Festival Fringe, as he couldn't muster any enthusiasm and did not feel he could write and then perform a show.
"I've always had well-received shows at the Fringe and I didn't want Parkinson's to be the reason I had a bad one," he said.
It wasn't until he started writing his blog about having Parkinson's that his mental health improved. 
Paul has previously said he intends to "keep Chasing, keep writing and performing comedy [and] keep quizzing" while joking that appearing on Dancing on Ice was probably "out of the question".
"A lot of people have asked, 'What can I do to help?'" he finished his post. "The answer is to treat me exactly the same as before."