Zara Tindall's baby daughter Lena takes her first public steps during rare family outing!
Publish Date

Sunday, 4 August 2019, 10:40AM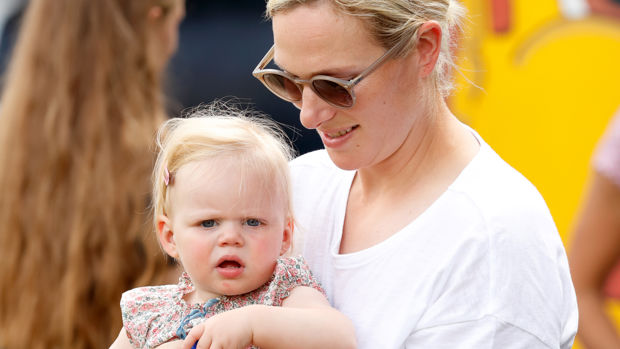 Lena Elizabeth Tindall is officially walking!
During a rare family outing at the Festival of British Eventing, Zara and Mike Tindall's youngest daughter Lena stole the show as she took her first steps in public.
In a collection of heartwarming snaps, doting mum Zara can be seen playing with her beautiful little girl - who was born in June last year.
The one-year-old was also seen walking around the park in a sweet floral dress and white trainers, before trying out a bouncy castle for presumably the first time.
The 38-year-old mum was also joined by her eldest daughter Mia, five.
It's hard to believe it has already been a year since Lena was born.
READ MORE:
• Prince Charles reportedly risked his life by walking in Princess Diana's funeral procession
• Coroner reveals the "tiny" fatal injury that claimed Princess Diana's life
At the time, a statement issued by Buckingham Palace read: "Mrs Michael Tindall was safely delivered of a baby girl on 18th June, at Stroud Maternity Unit. Mr Tindall was present at the birth."
"The weight of the baby was 9lbs 3oz."
"The Queen, The Duke of Edinburgh, The Princess Royal, Captain Mark Phillips and Mike's parents, Mr Philip and Mrs Linda Tindall, have been informed and are delighted with the news."
Lena's arrival came just over a year after the royal couple suffered a miscarriage on Christmas Eve 2016.
Lena is known as Miss Tindall, as the Princess Royal chose not to give her children royal titles.
She is 19th in line to the throne.