Publish Date

Friday, 16 February 2018, 8:52AM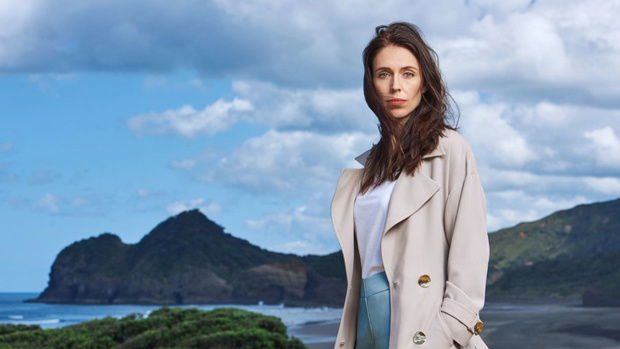 Vogue has released its Jacinda Ardern article and photoshoot, describing the New Zealand Prime Minister as the "Anti-Trump".
Ardern appears in the American edition of the renowned fashion and lifestyle magazine - in an article that covers everything from her meteoric rise to Prime Minister, the election campaign, her relationship with Clarke Gayford and her pregnancy.
She is pictured on Hooker Farm at Bethells Beach, wearing a high-fashion trench coat, pastel blue trousers and a white top.
"Ardern is clear-eyed about what a prime minister of New Zealand, a country with a population of under five million, can achieve on the world stage," reports Vogue. "'We're small,' she says, 'but we do our bit by standing up for what we believe in'."
Vogue describes Ardern as "young, forward-looking and unabashedly liberal".
"New Zealand has had two women prime ministers before, but neither made possibility and opportunity feel as contagious as Ardern, whose election slogan was cheerfully assertive: 'Let's do this'," writes the author of the article, Amelia Lester.
"And yet she became prime minister only after a tense period of negotiations (and compromise) with the nationalist NZ First party. Through it all she has spoken about issues of poverty and homelessness in her country with a blend of Bernie Sanders's bluntness and Elizabeth Warren's fearlessness. 'Yes, we believe in globalisation and trade, but we also believe in you being able to benefit from that more,' says Ardern. 'For too long, we progressives have seemed like part of the system. We need to start thinking about whether or not it's delivering for us now'."
Ardern is ready to take on carbon-heavy industries like farming, horticulture and forestry in the fight over climate change, the article reports.
"That Ardern has such a specific vision for what needs to be done is all the more remarkable when you consider that high office was very much thrust upon her."
The article covers the election campaign, which saw Labour win 36.9 percent of the vote last September, to Ardern's recent baby announcement.
This article was first posted at nzherald.co.nz and was republished here with permission.
Take your Radio, Podcasts and Music with you