Toni Street shares her daughter Mackenzie's delicious Lemon Brownie recipe
Publish Date

Friday, 29 July 2022, 11:55AM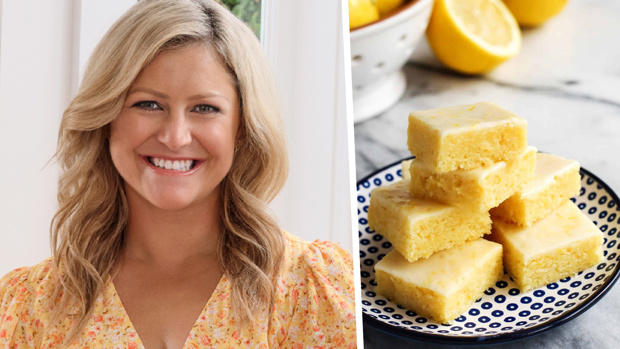 This wonderful zesty lemon brownie is absolutely divine - and best of all it's so easy to make!
As a fresh alternative to decadent chocolate brownies, Toni Street's seven-year-old daughter Mackenzie loves filling the house with the lovely lemony smell this recipe emits.
The brownies are super soft and fudgy but instead of having chocolate in every bite, you'll get a kick of citrus both in the blondie layer as well as in the glaze.
They are so easy to throw together, taste incredible, and will brighten up any dessert table!
You will need approximately 5-6 lemons in total for this recipe.
Makes: Approximately 30 small serves.
Ingredients:
Brownie:
6 tablespoons lemon juice
5 teaspoons lemon zest
250 grams butter, melted
1 cup sugar
1 1/2 cups flour
1/2 teaspoon salt
1/2 teaspoon baking powder
4 eggs
Glaze (combined all ingredients in a bowl):
2 tablespoons very soft butter
2 cups icing sugar
6 tablespoons lemon juice
2 teaspoons lemon zest
Method:
Preheat the oven to 180 degrees and line two slice trays with baking paper.
Zest and juice the lemons until you have enough for both the slice and the glaze.
In a large mixing bowl, add the flour, half the sugar, salt, baking powder and 5 teaspoons of lemon zest. Mix well to combine and set aside.
In another bowl, add cooled melted butter, the remaining half of the sugar and 6 tablespoons of lemon juice. Mix well.
Add the eggs to the wet mixture and whisk together.
Tip the wet mixture into the dry ingredients and mix gently until combined.
Divide the mixture evenly between the two slice trays and bake in the oven for 20 minutes or until golden.
Remove the slice from the oven and drizzle with the glaze.
Take your Radio, Podcasts and Music with you