Toni Street shares her simple turkey brine recipe to make a super moist, flavourful Christmas turkey
Publish Date

Sunday, 4 December 2022, 11:01AM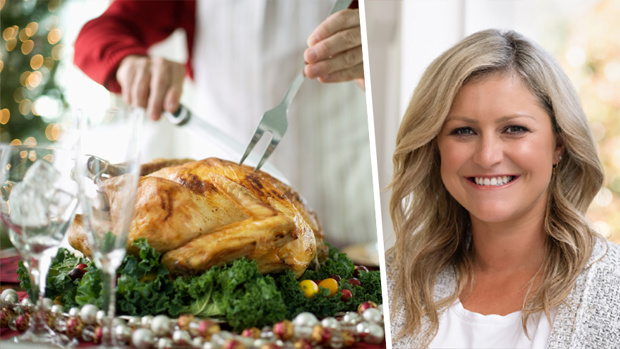 If you're someone who isn't a fan of turkey at Christmas because it always tastes dry, Toni Street is here to change your life ...
The trick is it has to be marinated!
And she's sharing her simple turkey brine recipe - infused with cinnamon and citrus - to help you make a super moist, flavourful Christmas turkey!
Brining means making a salt water solution and submerging the turkey for about 12-24 hours before roasting. This spa treatment helps the turkey retain more moisture during roasting and prevents it from drying out.
A brine also gives you a chance to season the turkey with herbs and spices, especially the skin! Cinnamon and citrus is a festive favourite and makes the house smell amazing.
Ingredients for the brine:
🎄 1 cup orange juice
🎄 4 litres water
🎄 1 cup salt
🎄 1 cup brown sugar
🎄 1 3-inch cinnamon stick 
🎄 1 6-7kg turkey, thawed is purchased frozen
Method for the brine:
Two days before Christmas, whisk together the orange juice, water, salt and brown sugar in a large nonreactive container with a cover (such as a large stainless steel stockpot).
Stir until salt and sugar dissolve - about five minutes.
Place the turkey into brine and cover. Refrigerate overnight.
If there is not enough brine to completely cover the turkey, make additional brine. Do not just add water as it will dilute the flavour.
Ingredients for the marinade:
🎄 3 oranges, sliced
🎄 3 lemons, sliced
🎄 1/2 cup chopped onion
🎄 1/2 cup chopped green capsicum
🎄 1/4 cup chopped fresh parsley
🎄 1 tablespoon whole cloves
🎄 1/4 cup garlic powder
🎄 2 3-inch cinnamon sticks
🎄 2 tablespoons paprika
🎄 1/4 cup olive oil
🎄 3 tablespoons ground black pepper
Method for the marinade:
The day before Christmas, remove turkey from the brine, shake off excess and pat the bird dry.
Discard the brine and clean the container.
In the clean container, stir together orange slices, lemon slices, onion, capsicum, parsley, cloves, garlic powder, cinnamon sticks, paprika, olive oil and pepper.
Place the turkey in the container and rub the marinade into the bird.
Cover and refrigerate overnight.
On Christmas Day, remove the turkey from the marinade and shake off the excess.
Stuff the bird and roast using your favourite method (as a guide, cook turkey for 20 minutes per 500g including stuffing weight, plus an extra 20 minutes).
Take your Radio, Podcasts and Music with you