80's Flying Car listed for sale on Facebook Marketplace
Publish Date

Thursday, 6 April 2023, 3:26PM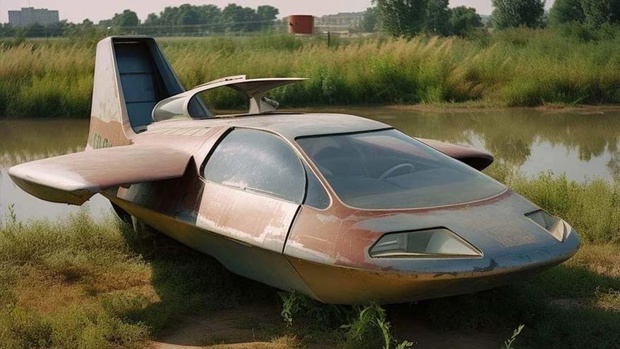 It may be missing its wings, the rotator assembly for the tail section is probably busted, and there's a good deal of surface rust all over but there's no mistaking the classic profile of a Mohishwa JRR4 flying car.

With the Facebook listing asking only $7,500 USD for a genuine flying car, it seems too good to be true.. and it is.
Artist Aaron Lea created these images when playing around with a tool called Midjourney - an artificial intelligence tool - which can be used to generate images just by inputting a few keywords as prompts. 
While Midjourney seemed an incredible step forward to Aaron and returned more realistic results than prior AI image generators, he wanted to see how convincing Midjourney-generated images would be in a real-life scenario "as a social and technological experiment" as well as for his own entertainment.
After creating the images he then posted the 'Mohishwa JRR4' to Facebook Marketplace with a made-up backstory about it being "one of the first consumer level flying cars, only released in Japan" with missing wings and with limited parts availability.
The listing almost immediately went viral, generating more than 25,000 views and 1,000 shares. On Reddit, at least a few people appeared to genuinely believe the flying car was real and that they had the opportunity to score something unique.
However, the listing only lasted a day before Aaron found himself locked out of his Facebook account and banned from Marketplace.
Just another reminder that if something seems too good to be true, it probably is. 
Take your Radio, Podcasts and Music with you