Mum sparks heated debate after saying childless couples should be banned from Disneyland
Publish Date

Tuesday, 30 July 2019, 10:36AM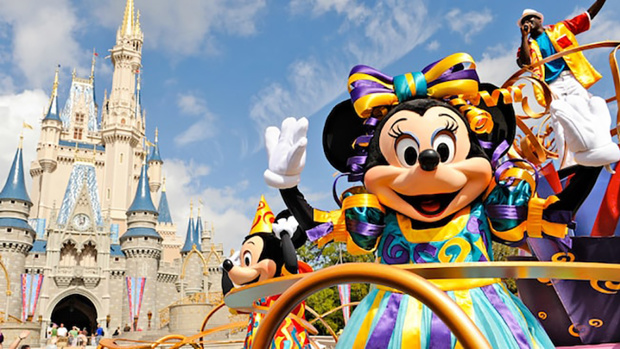 WARNING: Offensive language.
For as long as we can remember, Disneyland has strived to be the happiest place on Earth for people of all walks of life.
But one mum has left people outraged after she suggested childless couples be banned from the "family amusement park".
Taking to Facebook, the angry mother claimed "immature millennials" are ruining the park after her son was unable to get a Mickey Mouse pretzel he saw a childless woman eating because the line was too long.
Using extremely crude language, she declared she "f****** hates childless women with a BURNING PASSION."
Before claiming that millennials "have NO idea the JOY and HAPPINESS it is to MOTHERS WHO BUY THEIR BABIES TREATS AND TOYS," nor will they ever "EXPERIENCE THE EXHAUSTION THAT IT IS TO CHASE A 3-YEAR-OLD AROUND AND GETTING STARES AND ASSUMING I'M A BAD MOTHER."
She went on to blame her son's outburst on a millennial "in some very s***** shorts".
"I WANTED TO TAKE THAT F****** PRETZEL FROM THAT TRAMP LIKE THANKS B**** YOU MADE MY SON CRY," she wrote.
In the next line, she suggested that "mothers with children should be allowed to skip all the lines."
"YOU HAVE NO F****** IDEA WHAT IT'S LIKE TO STAND IN LINE FOR 3 HOURS WITH A CRANKY EXHAUSTED TODDLER," she continued to rant. "People without CHILDREN need to be BANNED."
To further add fuel to the fire, an article which was written by the New York Times agreed stating that it was weird to have Millenials in Disneyland as it is a place that should be enjoyed by children.
And Disney fans were not happy to read this, with many arguing that anyone should be welcome to enjoy "the most magical place on Earth."
READ MORE:
• Kiwi mum sparks heated debate after being kicked out of public pool for breastfeeding in water
"Sounds like she's resentful she's not having fun because she's too overwhelmed with toddler needs, and envious of unencumbered women (likely her own age) who are actually having fun. Sounds like she's the one who needs to grow up and stop blaming others for her own choices," wrote one woman.
"This sort of thing makes me so embarrassed to be a parent. I pray my kids get to be adults with enough resources to be childless in Disneyland if they choose," said another.
A third said: "Just because you decide to bring the exhaustion of a child into your life does not mean that I can't eat pretzels at Disney World."
While someone else pointed out: "WALT'S WHOLE GOAL WAS TO MAKE THINGS THAT EVERYONE COULD ENJOY."
Before another asked: "Aren't Mickey and Minnie a childless couple though?"
Others also pointed out flaws in the mum's logic.
"She wants to ban childless visitors AND wants mothers with children to be able to skip the line? I don't think she thought that through," said one follower.
"Wait... If people without children are banned AND people WITH children get to skip the line, will this not simply create an equally-long line of people who are skipping the line?" questioned another.
The New York Post column agreeing with the mother's message also received overwhelming backlash.
What do you think?
Take your Radio, Podcasts and Music with you